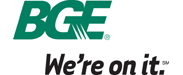 Baltimore Gas and Electric today announced Krieger Schechter Day School as the winner of the fourth annual BGE Wires Down Video Challenge at an all-school assembly in Pikesville. The yearly contest encourages elementary schools to create their own version of BGE's popular "Wires Down" electric safety commercial for the chance to win between $1,000 and $10,000 to fund a school enrichment project. This year's winning video will be played on all four Baltimore area television stations this weekend.
During the event, BGE employees gave an electric safety demonstration for the students and BGE President and Chief Operating Officer Stephen J. Woerner presented Rabbi Moshe and Principal Joshua Bender a check for $10,000 along with a trophy to Mr. Alex Thaler and the 39 students who created the grand prize video.
"I want to congratulate Rabbi Moshe, Principal Bender, Alex Thaler and the students at Krieger Schechter Day School for their winning rendition of BGE's "Wires Down" electrical safety commercial," said Stephen J. Woerner, president and chief operating officer for BGE. "Their enthusiasm and creativity were on display throughout the video. Safety is a priority at BGE and we are glad their school and the other participating schools had so much fun while learning about the important topic of electrical safety."
As part of a push for a more science-based learning environment, the school intends to use the money to install scientific discovery tools for their playground. These tools would include outdoor equipment that demonstrates scientific principles such as swings, balances ramps and gears as well as an outdoor science shed which would house magnifying glasses, measuring tools, and butterfly nets that could be used during their recess periods.
BGE's Wires Down Video Challenge is geared towards elementary schools in its central Maryland service area. This year, more than 87,000 votes were cast during online voting in November for the videos that were submitted by 27 schools from across Maryland. Originally produced in 2000, the Emmy Award-winning BGE "Wires Down" commercial with its "do not, do not, do not touch" melody aims to help raise awareness of electricity hazards, especially among young children.
BGE will award a total of $31,000 to the following 12 winning schools from this year's challenge:
Star Power Award ($10,000) – Krieger Schechter Day School
Spotlight Award ($5,000) – Sarah M. Roach Elementary School
Cast 'N Crew Award ($3,000) – H.O.P.E. Academy

 

Director's Cut Award ($3,000) – North Bend Elementary School
Golden Pipes Award ($3,000) – Perry Hall Christian School
Anne Arundel County Award ($1,000) – Edgewater Elementary School

 

Baltimore City Award ($1,000) – Fallstaff Elementary/Middle School
Baltimore County Award ($1,000) – Oliver Beach Elementary School
Carroll County Award ($1,000) – St. John Catholic School, Westminster
Harford County Award ($1,000) – Jarrettsville Elementary School
Howard County Award ($1,000) – Our Lady of Perpetual Help School
Prince George's County Award ($1,000) – Perrywood Elementary School
BGE Teacher Award ($500) – Alex Thaler
Rock The Vote Award (backpacks) – Monsignor Slade Catholic School
To date, BGE has awarded $112,000 to 32 elementary schools across central Maryland as part of the BGE Wires Down Video Challenge. For more information on the contest and for a complete listing of winning schools and submitted video entries, visit bgevideochallenge.com.  Public and private elementary schools in the BGE service area are also welcome to schedule free, in-person safety demonstrations from BGE safety experts who arrive in real utility bucket trucks or other service vehicles. To schedule a demonstration, please email our community affairs team at [email protected].
[do action="blackwall-hitch"/]