On December 12th, the Annapolis Yacht Club suffered a devastating fire. The building looks to be destroyed and 150 employees' earnings were in peril. It was a tragic, unfortunate, and insured accident.
The service industry is a tight-knit group and they quickly came to the table with offers of employment for displaced employees. This was a noble (if not self serving) gesture. It is what communities do in times of need. And then it got weird.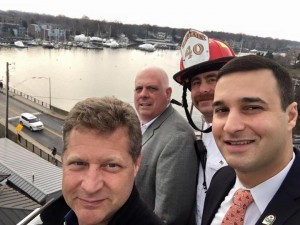 But let me take a selfie first
On Sunday the 13th, Governor Larry Hogan, County Executive Steve Schuh, and Annapolis Mayor Mike Pantelides held a hastily called photo op press conference and pledged to do whatever they could to assist the yacht club in their rebuilding and to secure employment for their employees. Then, they took some time to use a County fire truck to take a selfie atop the rubble of the yacht club. There is no word on how MOSH or OSHA felt about the three politicians in a bucket without helmets or belts to secure themselves.
Heaping praise for a job well done
Later that week, a bevy of politicians met at the firehouse to recognize the heroic actions of the firefighters who put out the fire. These were not passersby. These were well trained public servants who did their job exactly as they were trained to do. In fact, the fire was rather routine–even the fire chief said it was a "textbook fire." It was not at all like the mansion fire in January of 2015 that killed 6. Initially I wondered if it was a new political agenda as we are coming into an election year and all. Would there be press conferences to thank the police officer who pulled me over when the front license plate fell off my car? What about the four other fires in the county that left actual people homeless in the weeks that followed? Surely the politicians would be there offering all the resources they could muster to assist. They were going to help me find the best place to buy a new frame to hold my license plate right? Right?
A community tragedy?
And then, it got even more weird when Annapolis Mayor Mike Pantelides praised the community for coming together to help the Annapolis Yacht Club.
The recent fire at the Annapolis Yacht Club was a tragedy for our entire community. This Annapolis institution is not only an economic engine for our city but a part of the historic fabric that makes Annapolis so special.
I think I just vomited a little bit.
When was the last time a resident of Harbor House or Newtowne 20 was able to partake in that historic fabric by noshing on a burger at the Annapolis Yacht Club? The club has 1,600 members who pay $11,000 to join in addition to monthly dues and a required monthly minimum for food. Annapolis has a population of 38,722 (according to 2013 Census Department numbers). So, was this really a tragedy for the "entire community" or just the 4.1% that might belong?
Let's be honest here for a moment and do the math (ignoring the fact that AYC reaches far beyond the incorporated City limits)–37,122 people in the City of Annapolis have never been to the Annapolis Yacht Club and are not members. And I might go so far to say that the majority of those people are not even welcome to join the ranks.
So Mr. Mayor,  exactly how is this business loss a "tragedy for the entire community"? I might suggest that if there was a fire on Main Street that burned down a block and many businesses that were accessible to the public, might be a tragedy for the entire community. Perhaps if City Hall or the Roger "Pip" Moyer Recreation center burned it might be a tragedy for the entire community. If there was the loss of life of one of our police officers or firefighters in the line of duty it would be a tragedy for the entire community.  But a fire at the Annapolitan Club, Peerless Rens, Eastport Democratic Club, and yes…the Annapolis Yacht Club is NOT a tragedy for the entire community. It is a tragedy for the members of those private (and arguably exclusionary) organizations.
From AYC to Harbor Grill
Within a month, the City sprung into action to secure an alternate location, put out the call to employ the displaced employees, and fast tracked the permits to allow the Annapolis Yacht Club to operate at the now-defunct Harbor Grill. How nice that a private organization representing 4.1% of the community can grease the wheels so effectively. It is particularly sad when the bureaucratic red tape put forth by the City of Annapolis tends to chase away more businesses than it attracts. It took them a decade to get the Market House open; yet the Annapolis Yacht Club is ready to go in under a month? How does that work? Grand Paws pet salon tried to expand and move from West Annapolis to Eastport, but the cost associated with the City's red tape, put them under. How long did it take to open Fox's Den? Preserve? Factor's Row? How is this special treatment fair to the other businesses that are looking to do business in Annapolis?
And to add insult to injury, the owners of Harbor Grill simply terminated all of their employees on Thursday to make way for the yacht club employees. Yet there is nary a peep from any politician looking to help out these 30 people that are now jobless. Are Annapolis Yacht Club employees more worthy than Harbor Grill employees? It certainly seems so.
UPDATE 1/12/2016:  The Capital is reporting that the management of The Harbor Grill has agreed to relocate employees to other restaurants or pay them a 2 week severance. 
Save Annapolis
There may be an explanation here. Save Annapolis.  We are coming into local election season again and in case you have a short memory, Mayor Mike Pantelides defeated incumbent Mayor Josh Cohen by about 50 votes. These votes were largely the result of a now-defunct group called Save Annapolis that was very well funded and spearheaded by several members of…wait for it…..the Annapolis Yacht Club.  The genesis of Save Annapolis was when Cohen wanted to consider developing the Fawcett property along with a local developer Mark Ordan. This plan, while a good one for the "entire community" was not so good for some of the 4.1% group. A campaign was launched to defeat the Mayor and Pantelides ended up winning. I guess you could say that the Mayor knows which side of his brioche roll is buttered.
As the Annapolis Yacht Club looks to rebuild, to what lengths will the City, County and State go to assist them? Will they be required to sprinkler the building? Will waterfront construction regulations be eased for this institution that is the "historic fabric of Annapolis"? Additional inspectors to minimize delays?
Maybe I am wrong. Hopefully I am wrong. Maybe this is the start of a real community building effort brought to you by Governor Hogan, County Executive Schuh, and Mayor Pantelides. Maybe it is a start. Maybe they will be looking at how to make our communities better and are just starting with the yacht club. Maybe they will be addressing the violence in Eastport, the break-ins city wide, the drug use and trade happening all over the state.  Yeah, maybe….