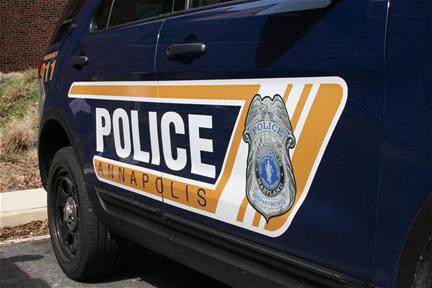 On Thursday, January 7th at 8:30 p.m. officers from the Annapolis Police Department responded to the 1100 block of Madison Street for reports of wanted subject Scotty Moss, possibly armed, in the area.  Moss, 24, of Annapolis was wanted on several warrants, including one stemming from an October 2015 domestic violence related robbery.
Officers saw Moss run into an apartment in the 1100 block of Madison Street and then refuse to come out.  Officers from the Annapolis Special Emergency Team and Crisis Negotiation Team responded to the location.  At 11:12 p.m. Moss exited the apartment and was arrested.  When the vacant apartment was searched a second subject was located inside.  This subject, a 17 year old male from Annapolis, was arrested and charged with fourth degree burglary.  He was charged on a juvenile citation and released to his guardian. 
Officers also recovered two handguns inside the apartment.  The Annapolis Police Department has recovered several guns so far this year.  If you have any information about people illegally carrying guns in your community report it to us by calling 410-268-4141. 
During the barricade an unknown subject fired shots in the neighboring community of Eastport Terrace, but no one and nothing appeared to have been struck. 
Moss was charged with two bench warrants for failing to appear in court for traffic violations, a Circuit Court warrant for violation of probation in an attempted robbery case, and an arrest warrant for a domestic related robbery, second degree assault, and unauthorized use of vehicle.  Moss is currently awaiting transport for his initial hearing before the District Court Commissioner.  
[do action="blackwall-hitch"/]
Category: Crime News, NEWS, Post To FB