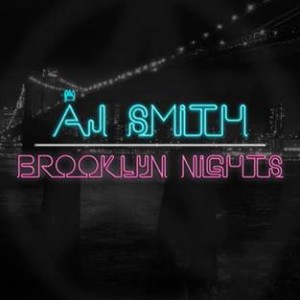 Singer-songwriter AJ Smith brings a fresh face to 2016's indie music scene. Smith, the first graduate of New York University's Songwriting Masters Program and the Songwriters Hall of Fame Songwriting Scholar, has taken a rather unconventional path for a recording artist. The 25-year-old gem's pursuit of postgraduate education enabled him to study at the elbows of songwriting greats including Eagles' legend Glenn Frey, Roseanne Cash, Phil Galdston, and many others.
Fostered by the love and support of NYU, Smith metGRAMMY-winning producer Scott Jacoby (John Legend, Vampire Weekend) whom Smith has collaborated with on his upcoming EP, including January 15th's new single "Brooklyn Nights." Thanks to Jacoby, "Brooklyn Nights" came to be mastered by GRAMMY-nominated in-demand mastering engineer Emily Lazar (Coldplay, Sia).
DC101's Mike Jones compared the AJ Smith single to Fun's GRAMMY-winning song "We Are Young," while others liken Smith to Maroon 5's Adam Levine or One Republic's Ryan Tedder with a flair of Ed Sheeran and John Mayer. There's a reason – in both its familiarity and individuality, "Brooklyn Nights" feels like it has always been your favorite song, even on first listen.
Despite pressure from industry execs, peers, and other artists to drop out of school and "learn on the road," Smith believes that taking the time to master his craft in school was well worth it. Adopting a best-of-both-worlds attitude, Smith (thanks to scholarships awarded by the Songwriters Hall of Fame and Carole Bayer Sager) was not only able to continue his studies by day, but also tour during weekends & summer breaks, and perform in an off-Broadway musical "What's It All About?" (now playing London's West End) in evenings to further develop his multi-instrumental and performance skills (Smith plays piano, violin, guitar, mandolin, bass, banjo, uke, and sings).
"Brooklyn Nights" showcases the charm and introspection behind songwriting, drawing on the strengths of Smith's seasoned voice and encouraging a community of diverse music lovers to interconnect and feel the Brooklyn vibe.
Starting January 15, 2015, "Brooklyn Nights" can be streamed at http://bit.ly/soundcloud-ajsmith and found on iTunes, Spotify, and CDBaby worldwide with further distribution to follow.
Smith's next live performance is scheduled for January 27, 2016 at DC-area hotspot Jammin' Java.
[do action="blackwall-hitch"/]
Category: Entertainment, Events, LIFE IN THE AREA, Local News, NEWS, Post To FB