[do action="fringe"/]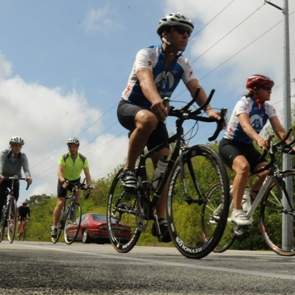 County Executive Steve Schuh  announced the appointment of 11 citizen members and 10 ex officio government representatives to the Anne Arundel County Bicycle Advisory Commission ("AACBAC"), who will advise the county on bicycle related policy and budgetary issues.
"This is a vital step in building a safe, interconnected network of trails, and on road protected bike lanes for transportation and recreation" said Schuh.  "This is a key element of our JumpStart Anne Arundel capital program and will help make our county the best place to live, work and start a business in Maryland."      
"The primary concern for cyclists riding home, or to work, school or even travelling and shopping is not whether they are on a city, county, state road or trail," said AACBAC Chair Jon Korin. "They just want to travel safely. This commission brings all of the parties together to build out a safe bike route network." 
This new Commission is another step among several other recent initiatives to improve bicycle safety and encourage bicycle travel around the county.  Anne Arundel County and BikeAAA have already collaborated on Bike to Work Day, the recent Lifeline100 community bike event, recently installed East Coast Greenway signs, and bike safety rodeos provided for more than 1,000 children. In addition, through a grant from the Maryland Highway Safety Office, more than 500 free bike helmets have been provided to county children.
Members of the new commission include:
Citizen Appointments
Jon Korin, Chair, Severna Park

Brian Biddle, Severna Park

Evelyn Cook, Severna Park

Ernest Freeland, Annapolis

Michael Golden, Millersville

Jack Keene, Severna Park

Marita Roos, Annapolis

Stoney Simons, Galesville

Carol Vilardo, Annapolis

Rick Watts , Pasadena

Cynthia Wyatt, Linthicum
Ex Officio
Dawn Thomas, Recreation & Parks

Jim Schroll, Public Works

Jon Mayer, Planning & Zoning

Diane Croghan, Office of County Executive

Cpls Kam Cooke, Police Bike Patrol

Cpl.  Dominic Scali, Police Bike Patrol

Capt. Frank Tewey, Police Community Relations

Maury Chaput, Anne Arundel Community College

Rick Gordon, City of Annapolis, Transportation

Tony Campbell, State Highways Administration, Bike/Ped Director
The Commission will hold its first meeting today.
[do action="blackwall-hitch"/]