[do action="fringe"/]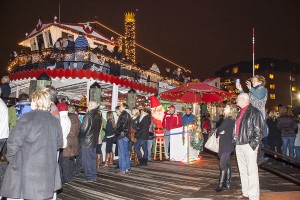 Annapolis' favorite sightseeing boat, Watermark's Harbor Queen will again host "The Queen of All Food Drives" during the Annual Eastport Yacht Club Lights Parade on Saturday, December 12th from 5:30-8:30 p.m. The holiday food drive benefits the Anne Arundel County Food Bank. The Annapolis and Anne Arundel County Chamber of Commerce is sponsoring the event. For a donation of non-perishable food items, pet food or monetary donation guests can watch the Eastport Yacht Club Lights Parade from Harbor Queen at the end of City Dock, a prime viewing location for this Annapolis holiday tradition. Harbor Queen will be decorated in holiday lights and décor for the event by Watermark's crew and staff members. The boat will stay dockside for the evening. 
Debbie Gosselin, President of Watermark says, "The Lights Parade is such a wonderful maritime tradition in Annapolis. Many of our vessels are out for the fun and it makes perfect sense for Harbor Queen to participate. Harbor Queen is an Annapolis icon! We're really happy to have her end the year helping the Annapolis community during the holidays. It is a team effort – staff and crew members donate and loan holiday decorations for Queen, they'll spend time working together decorating the boat, and many are volunteering their time to welcome guests and collect donations during the event. Seeing Harbor Queen lit up like a Christmas tree is fun for all."
In addition to the festive décor and the great view, there will be complimentary light snacks on board provided by Wegmans, a full cash bar with a portion of proceeds benefitting the Food Bank and live entertainment provided by The Chesapeake Revelers! The Chesapeake Revelers will entertain with great songs and stories. This group of dedicated performers from the Chesapeake Theater Company and Chesapeake Youth Players can be found in seasonal venues throughout the region. Appearing in period costume, the Victorian carolers donned in top hates, capes, holly and ribbon will wassail and make merry with all!
The public is encouraged to dress warmly and bring their holiday spirit to Annapolis City Dock to help those in need while enjoying a festive Annapolis tradition. Donations of non-perishable food items, pet food or monetary donations will gain access to the viewing platform on Harbor Queen to watch the Lights Parade. A suggested donation value is $10. The event is "open house" style with guests free to come and go throughout the evening. On-leash pets are welcome on board. Representatives from the Food Bank will be in attendance. Reservations are not required; guests should walk up to Harbor Queen's slip at the end of City Dock for the festivities. 
This is the fourth "Queen of All Food Drives." Watermark held the fundraiser in 2010, 2012 and 2013. The food drive will benefit our area's neediest citizens. The Food Bank is the only free, multi-purpose Agency in Maryland that provides food, nutritional supplements, medical equipment, furniture, vehicles, appliances, and more to those in need, free of charge. One in 16 residents in Anne Arundel County are below the poverty line; over 1/3 are children and the Anne Arundel County Food Bank serves these citizens. 43,730 people in Anne Arundel County are food insecure, unsure where they will get their next meal. Of this 16.3% or 20,210 are children. (Feeding America, 2011)
[do action="blackwall-hitch"/]