[do action="fringe"/]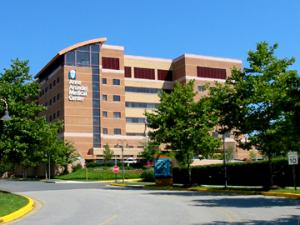 Anne Arundel Medical Center (AAMC) opened a new  catheterization lab as part of the AAMC Heart and Vascular Institute. The new lab expands AAMC's heart care services to better serve the needs of our community.
Designed to optimize patient care and efficiency, the catheterization lab features innovative technology to visualize and detect heart conditions. The lab is open 24 hours a day, seven days a week to care for heart attack patients. 
To date, the AAMC Foundation has raised more than $1 million for the new lab, with a $750,000 donation from the AAMC Auxiliary and support from AAMC's Philanthropy Council led by Pat Tate and Pam Batstone. The funds matched a $500,000 bond bill from the State of Maryland. 
AAMC is designated as a Specialty Referral Center for Cardiac Intervention by Maryland's Institute of Emergency Medical Services Systems (MIEMSS). This important designation means AAMC meets state standards to receive patients transported by EMS who are experiencing a ST segment elevation myocardial infarction, or STEMI. A STEMI is the deadliest type of heart attack where there is a complete blockage of a major coronary artery. 
"Opening a heart attack patient's blocked artery with an angioplasty balloon 90 minutes after arrival is a standard quality indicator for hospitals nationally," said Jonathan Altschuler, MD, AAMC's medical director of the cardiac catheterization lab. "Due to the system of coordinated care we have in place at Anne Arundel Medical Center, the median time is 52 minutes. For the patient, this means better outcomes and often a faster recovery."
Since the program started in 2002, AAMC's cardiac team has rapidly evaluated and treated almost 1,700 STEMI patients in the cardiac cath lab.
AAMC is also accredited as a Cycle IV Chest Pain Center with PCI (percutaneous coronary intervention, or angioplasty) from The Society of Cardiovascular Patient Care (SCPC). This accreditation recognizes AAMC's efficient treatment of heart attack patients, along with the value of our standardized diagnostic and treatment programs.
[do action="blackwall-hitch"/]
Category: Businesses, LIFE IN THE AREA, Local News, NEWS