[do action="fringe"/]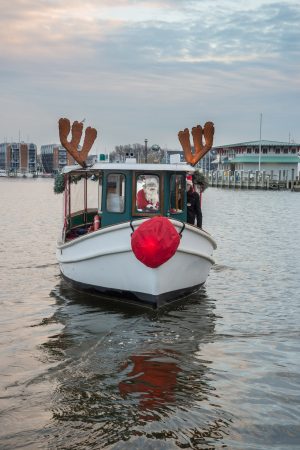 Captain Santa is coming to town! Cruises on the Bay by Watermark cheerfully announces Jolly Express Cruises for the 2015 holiday season. Miss Anne will be decked out in her reindeer best with a bright red nose and antlers offering 45-minute Spa Creek sleigh rides in December. A cruise on the Jolly Express is a most festive – and Annapolitan – way to celebrate the holidays! Jolly passengers enjoy hot cocoa, holiday music and lots of holiday cheer on a cozy and spirited 45-minute cruise of beautiful Spa Creek in Annapolis. As part of the Jolly Express tradition and in the spirit of holiday giving, ten percent of ticket proceeds will be donated to Historic Annapolis, Inc.
Taking place in the evening, Jolly Express Cruise passengers bask in the view of the beautiful Annapolis Harbor and homes along Spa Creek at night. Debbie Gosselin, President of Watermark says, "The Jolly Express keeps us cruising through the holidays! It's a nice time of year to come downtown and we're excited to offer a different type of holiday tradition. Ten percent of ticket proceeds will be donated to Historic Annapolis, an organization with which we work closely throughout the year. We're happy for the opportunity to support our partner-in-historic tourism Historic Annapolis."
Jolly Express Cruises begin Friday, December 4th and are offered Fridays, Saturdays and Sundays (except December 12) through the end of December plus December 24 and 31. Cruises run at 6, 7, and 8 p.m. Additional dates may be added. Tickets are $23 for Adults and $13 for Children under 12. Lap blankets are available for added coziness. Advanced reservations are recommended especially for large groups. Tickets can be purchased online at cruisesonthebay.com or beginning at 5:45 p.m. the day of cruises from Miss Anne's captain and her elf at City Dock. Cruises depart from Slip 8 and 9 at Annapolis City Dock under the lighted "Jolly Express" sign. Private Jolly Express cruises and charters are available for up to 21 guests. For more information, call 410-268-7601 x104.
Celebrate the holidays on land with a Holiday Candlelight Stroll! Annapolis Tours℠ by Watermark® offers a festive holiday walking tour on Fridays and Saturdays in December. Includes holiday tales and an interior tour of the decorated Hammond Harwood House. $20/Adults, $12/Children 3-11. For more information about Holiday Candlelight Stroll, visit annapolistours.com. Private tours are available.
[do action="blackwall-hitch"/]