[do action="fringe"/]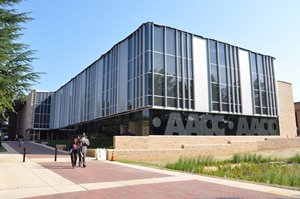 Anne Arundel Community College architecture students won five state awards from the Maryland State chapter of the American Association of Architects (AIA), surpassing the number of awards won by any other undergraduate college or university. With the three regional awards won earlier, this year's student competitors had one of the best showings for the architecture program. 
The state win for the design category went to the team of Michelle Sowder of Annapolis and George Betty of Baltimore. That team also won a second place award at the regional level for the same design. 
The first place award at the state level for hand delineation went to Dan Lorenzana of Glen Burnie for his rendering of Vatican City. He also won a People's Choice award at the state banquet for his entry. 
A special Juror's Citation went to the team of Dimitrios Zoulis of Linthicum and Sam Scardefield of Severna Park. That team was honored with the first place award at the regional level and Scardefield also won a second award for one of his individual projects. 
The team of Amos Gambah of Severn and Claudia Santiago of Odenton won another People's Choice award for a sustainable project, "Yucca House."
AACC architecture students have won the top delineation award every year since its conception. Judges for the students' projects are the same ones who critique the professional entries.
AACC's Architecture and Interior Design program includes degree programs in architecture, interior design, construction management and landscape architecture design, as well as certificates in architectural CAD, architectural illustration, construction management, construction entrepreneurship, interior design and advanced interior design and landscape architecture design. A key part of the program is providing opportunities for students to work on real projects through service learning and community service. For information, call 410-777-2442 or visit http://www.aacc.edu/architecture/ 
[do action="blackwall-hitch"/]