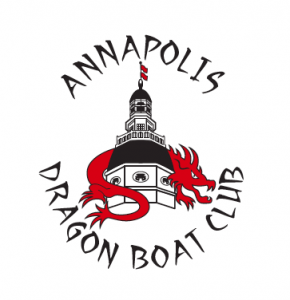 For Joni Adrian Morgan of Annapolis, being diagnosed and treated for breast cancer was a life-changing event.  The mother of two endured surgery, chemotherapy, a stem cell transplant and radiation.  After doctors declared her year-long treatment a success, Joni was still looking over her shoulder. Would the cancer ever come back?
"For me, the years after I finished the treatments were frightening," says Joni, who is now 57, an executive with Annapolis-based iJET, International, and retired from the CIA.  "You're done with your doctors, you're done with your support groups but you are still living with it. You don't necessarily want to talk to your family about it because you don't want to worry them. You don't want to talk to your friends because they're done with that. But you are left by yourself to struggle with the fear."
Then, Joni discovered the Annapolis Dragon Boat Club, which was founded in 2010 to support the recovery of survivors of breast and other cancers.  Many of the club's 55 members are breast cancer survivors.  Twice a week club members – mostly women but some men – climb into two 44-foot long dragon boats and get a paddling workout along Spa Creek. A Canadian study has found that the workout helps with breast cancer survivors' physical recovery.
"I love the athleticism of it," says Joni, who is also the club's race team captain.  "It is a workout. But being out there with a group that understands exactly what you are going through physically and psychologically is also great.  It is about the camaraderie." 
To mark Breast Cancer Awareness Month in October, the club is holding its "Paddles Up" fundraiser at the Annapolis Waterfront Marriott on October 25 between 2 and 6 p.m. The money raised will go toward the club's slip fees, boat maintenance costs, insurance and other expenses.  Pusser's Caribbean Grille at the Marriott is sponsoring the event. 
Tickets, at $50 apiece, are available to the general public. The event will include food, drinks and entertainment as well as silent and live auctions. Additionally, each individual ticket is an entry into a raffle for a $100 gift card for Pusser's Caribbean Grille.
Tickets can be purchased at McGarvey's Saloon at 8 Market Space in Annapolis or at annapolisdragonboatclub.org. The website also accepts donations, which are tax deductible.
The club's sleek four-foot wide pink dragon boat, complete with a dragonhead, is a familiar site on Spa Creek on Tuesday and Thursday evenings.  Club members sit two abreast in 11 rows with a coach calling out drills in front and a helmsperson in back.  The club this year has borrowed a second boat from Catholic Charities in Baltimore but hopes to be able to acquire its own second boat soon. The club also holds regular "soft paddles" for those who are undergoing cancer treatment and others who don't have the stamina for the more rigorous practices.
While the club has a breast cancer recovery focus, anyone is welcome to join.  Its mission is to promote the development of healthy bodies and spirits for men and women, to support recovery from breast cancer and all other cancers, and to grow friendships and teamwork.   The club has a race team that goes to regattas up and down the East Coast, and its members can choose to compete or just participate in the club's weekly "open paddle" sessions. 
"I love being on the water. I love Spa Creek," Joni says. "Because we paddle in the evenings the light is so beautiful. It is rejuvenating."
[do action="blackwall-hitch"/]