[do action="fringe"/]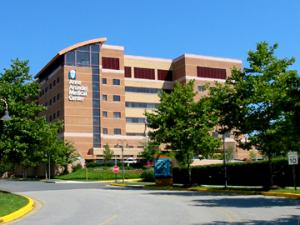 Anne Arundel Medical Center (AAMC)  has been recognized as one of the most connected hospitals for 2015-16 by U.S. News & World Report. AAMC is the only Maryland hospital to receive this recognition.
The U.S. News Most Connected Hospitals list recognizes hospitals whose excellence in patient safety, patient engagement and clinical connectedness improves patient care. 
This is not the first time AAMC has been recognized for its electronic connectedness. AAMC has been named six times as one of the national Most Wired™ hospitals and health systems by Hospitals & Health Networks.
"One of the reasons AAMC is recognized for this honor because of the extensive collaboration among all AAMC departments and for our forward thinking use of technologies, such as our electronic medical record system that assists physicians, nurses, and patients to communicate efficiently," says Barbara Baldwin, AAMC chief information officer.
In response to the changing technological landscape AAMC has shown an adaptability and commitment to staying ahead of the curve:
Dashboards: Analytics for population health are automated so reminders are sent to patients with chronic health conditions to have a checkup.

Inter-hospital communication: Physicians can view and exchange other facilities' results and get in contact with patients through email and alerts.

Patient portals: 

AAMC's MyChart portal 

enables patients to review their own care results and communicate securely with their care providers for such needs as prescription renewals as well as offering self-management tools for patients with chronic conditions.
To identify the Most Connected Hospitals, U.S. News analyzed dozens of variables spanning three domains of medicine where electronic connectedness came to make a difference to patients. U.S. News assigned domain-specific scores and an overall score to each hospital for which it could obtain data from the most recent AHA Annual Survey Information Technology Supplement, an IT survey that the American Hospital Association administers to hospitals nationwide. Hospitals that earned at least 70 out of 75 points in the 2014 IT survey or 55 out of 61 points in the 2013 survey and also achieved national ranking or high performing recognition in the current edition of Best Hospitals, Best Hospitals for Common Care or Best Children's Hospitals were recognized as Most Connected Hospitals. In all, 158 hospitals made the Most Connected Hospitals 2015-16 list.
[do action="blackwall-hitch"/]