[do action="fringe"/]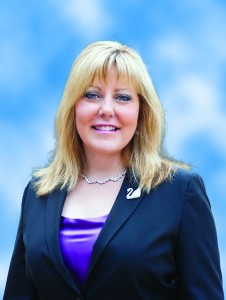 Secretary of Homeland Security Jeh Johnson announced on Oct. 16, the appointment of Dr. Dawn Lindsay to the Homeland Security Academic Advisory Council (HSAAC). 
To strengthen engagement with the academic community, the U.S. Department of Homeland Security (DHS) formed the HSAAC in March 2012. The Council is a federal advisory committee comprised of university presidents and academic leaders who provide advice and recommendations to the Secretary and senior leadership at DHS on matters related to homeland security and the academic community. 
As a result of the Council's more than 120 recommendations, key initiatives and accomplishments in support of the homeland security mission have focused on six areas: 
•    Academic Research and Faculty Exchange: Taps into the expertise of the nation's colleges and universities to address pressing homeland security needs and incorporate scientific findings into DHS's operations; 
•    Campus Resilience: Strengthens the ability of colleges and universities to prevent, protect against, mitigate, respond to and recover from the threats and hazards that pose the greatest risk;
•    Cybersecurity: Strengthens partnerships to enhance DHS's cybersecurity recruitment efforts and support resilient campus systems and networks;
•    Homeland Security Academic Programs: Supports academic programs that help create an educated and informed workforce now and in the future;
•    International Students: Advances opportunities for international students to study in America while maintaining the integrity of the immigration process; and
•    Student and Recent Graduate Recruitment: Focuses on the unique career opportunities that DHS offers in a variety of fields to build the next generation of homeland security leaders.
Other new members announced on Oct. 16, include: Dr. Roslyn Clark Artis, president of Florida Memorial University; Dr. Michael M. Crow, president of Arizona State University; Dr. Beverly Wade Hogan, president of Tougaloo College; Dr. Jim Johnsen, president of the University of Alaska System; and Rear Admiral James Rendon, superintendent of the U.S. Coast Guard Academy. 
For information about HSAAC, visit http://www.dhs.gov/homeland-security-academic-advisory-council-hsaac .
[do action="blackwall-hitch"/]