[do action="fringe"/]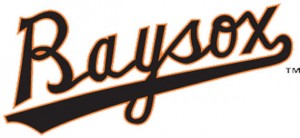 Baysox outfielder Quincy Latimore homered twice and drove in six runs to lead the Baysox to an 11-3 win over the Altoona Curve Friday night. The win boosted the Baysox to a 2-1 lead in the best-of-five Western Division Championship Series against Altoona.
Latimore became the first Baysox player to record five or more RBI this season as he finished the game 4-for-5 with two home runs, two doubles and six RBI. He's the first Baysox player to record more than five RBI in a playoff game since Nolan Reimold's three home run, eight RBI performance Sep. 4, 2008. 
The Baysox got off to another fast start against Altoona starter Steven Brault in the bottom of the first inning. Corban Joseph hit a lead-off single to right field and Trey Mancini then drew a one out walk. Quincy Latimore brought both runners home with a double down the left field line and Garabez Rosa plated Latimore with a triple to right field to give Bowie a 3-0 lead.
Altoona responded in the top of the second inning against Baysox starter Chris Lee. Barrett Barnes was hit-by-a-pitch and the next two runners singled to load the bases. Sebastian Valle brought one run home when he grounded into a double play and Eric Wood then singled to center field to bring a second run home and make the score 3-2. 
Bowie added another run in the bottom of the fourth inning on a two-out rally. Glynn Davis and Joseph hit back-to-back ground rule doubles toward right field to plate a run and give the Baysox a 4-2 lead. 
The Baysox added two more insurance runs in the bottom of the fifth inning. Latimore got things started with a one-out solo home run to left-center field. Brandon Snyder then drew a walk and Rosa followed with a single to left field. With two outs, Jhondaniel Medina replaced Brault on the mound and surrendered an RBI single to center field from Ozzie Martinez to give Bowie a 6-2 lead. 
Bowie blew the game open in the bottom of the sixth inning. Davis and Yastrzemski each walked and Mancini then hit a one out single to second base that scored one run. After Tom Harlan replaced Medina on the mound, Latimore followed with his second home run of the night to give the Baysox a 10-2 lead.
Altoona got one run back against Baysox reliever Donnie Hart in the top of the seventh inning. Wood and Adam Frazier each singled and Max Moroff then walked to load the bases with one out. After Jose Osuna lined out to second base, Jason Stoffel replaced Hart on the mound and walked in a run before getting out of the inning with the score 10-3.
The Baysox answered in the bottom of the seventh inning. Glynn Davis reached on a fielding error by Wood at third base and Yastrzemski then tripled to right field to plate Davis and make the score 11-3. 
Lee threw six innings and allowed two runs on six hits while striking out four and walking one in the win. Hart recorded the first two outs of the seventh inning, allowing one run on two hits and a walk. Stoffel threw 1.1 innings, allowing one hit while walking one and striking out one. Reliever Ashur Tolliver pitched a perfect ninth inning and struck out two batters to finish the game.
Brault took the loss for Altoona, throwing 4.2 innings and allowing six runs on nine hits while striking out one and walking two.
The Baysox will play Game 4 of the Western Division Championship Series Saturday at P.G Stadium at 6:05 p.m. Tickets are on sale now at www.baysox.com. If the series goes to a fifth game, that will be played in Bowie Sunday at 1:05 p.m. In the Eastern Division Championship Series, Reading leads Binghamton two games to zero.
Baysox Baseball – We'll Knock Your 'Sox Off. The 2015 Baysox have clinched a spot in the Eastern League playoffs. Don't miss your chance to see the Baysox make a run at their first ever Eastern League Championship. Single game tickets for the Baysox first home game Friday, Sep. 11 are available now at baysox.com
[do action="blackwall-hitch"/]