[do action="fringe"/]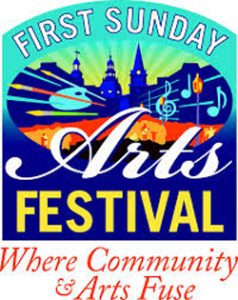 On Sunday September 6th West and Calvert Streets in the Arts and Entertainment District of Annapolis will once again be taken over by the popular First Sunday Arts festival from 11am to 5pm. The festival is expecting to draw over 8,000 locals on this HolidaySunday. Take in the arts and enjoy these 2 free family friendly festivities in downtown Annapolis.
The First Sunday Arts festival is packed with over 100 with local and regional artists and crafters selling handcrafted items along West and Calvert Street. You will find hand painted scarves, wood turnings, jewelry, clothes, pottery, paintings, photography, handblown glass, furniture, books, metal sculptures, home decor and more. Also you can get first peak at HERE. A pop up shop featuring local artists.
Whitmore Park on Calvert Street will be hosting music starting at noon presented by Jeremy Ragsdale Voice Studio. Plus in the park will be story telling for the kids by JNP Project, wine tasting by Annapolis based Great Frogs Winery, and food trucks including La Brea Bakery.
Along the first blocks of West Street you will also find outdoor cafes, balloon artists and face painters for the kids, plus music by Ursula Ricks, Big Hoax, Brothers and Sisters, Three Shot Mocha, Johnathon Stone, and Joanne Juskus.
Around 3pm you will hear the drums beating as the Labor Day Parade makes its way down West Street towards the festival then making a left onto Calvert Street. The parade is fun for all so make sure to arrive early.
After the festival the after parties begin at 5pm with Art receptions at 49 West Coffeehouse, Gospel Sushi at Tsunami, and Music on the back patio at Ramshead .
The First Sunday arts Festival is always a free admission street arts festival and offers plenty of easy parking options with Whitmore Garage and Gott's Court Garage being located right next to the festival on Calvert Street and free parking is located about 2 blocks away and the State Parking Garage on the corner of Calvert and Bladen Street.
First Sunday Arts festivals will continue in 2015 on October 4th and November 1. for additional details visit www.firstsundayarts.com
[do action="blackwall-hitch"/]