[do action="fringe"/]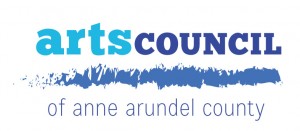 Annie Awards Recognize Seven Individuals for their Contributions to the Arts in Anne Arundel County
The Arts Council of Anne Arundel County is pleased to announce the recipients of the 2015 Annie Awards: 
Visual Arts — Casey Johnson: Sculptor who creates interactive and dynamic environments, a co-founder and current Director of Creative Paradox.
Arts Educator — Judi Fey: Dance Consultant for Anne Arundel County schools who has developed the education, curriculum, dance events organization, and K-12 fine arts dance program for the school system.
Arts Patron — Frank and Sharon Arsenault:  volunteers serving, 20 years and 30 years respectively, in leadership and support positions at Maryland Federation of Art facilitating exhibitions, marketing, database and cloud technology  development and  implementation.
Literary Arts — Robert Timberg: award winning journalist and author of several books including  The Nightingale's Song, a New York Times notable Book of the Year in 1995 and last year's widely acclaimed memoir Blue Eyed Boy.

 

Performing Arts — Anna Binnewig: Director of the Londontowne Symphony Orchestra Director of the Anne Arundel Community College Symphony Orchestra and AACC Opera, Guest Conductor of the All-County Honor Orchestra as well as Associate Professor of Music at AACC.
Arts Historian– Greg Stiverson:  Historian and historic preservationist who has worked  over the past 40 years  and served on dozens of non-profit boards and commissions in Annapolis, Anne Arundel County and Maryland as well as held various positions at the Maryland State Archives. Stiverson is a former Executive Director of Historic London Town and Garden,  Former Executive Director of Historic Annapolis and currently Executive Director of the Kunta-Kinte Alex Haley Foundation.
Lifetime Achievement — Ellen Moyer: former Mayor of the city of Annapolis, Moyer partnered with the state of Maryland to gain an Art and Entertainment District, a Main Street Program for Annapolis, and Sister City outreach.   Co-founder of Maryland Hall for the Creative Arts and the Annapolis Summer Garden Theatre, she initiated the establishment of the Art in Public Places Commission., the only municipal funded commission in the State which has facilitated  murals, art work and historic panels to be prominently displayed in Annapolis.           

            
The purpose of the Annie awards is to highlight the accomplishment of artists, educators, and art supporters to inspire and to promote the arts and historic preservation in Anne Arundel County. The Annie Awards were created in 2000 to recognize the contributions of local artists, educators, and arts patrons who reside in Anne Arundel County. 
The awards will be given at a presentation ceremony held at 6:30 p.m. in the Francis Scott Key Auditorium at St. John's College in Annapolis on Wednesday October 14th.  A reception prior to the event will be held at 5:00 p.m. and requires an R.S.V.P. to the Arts Council office received by October 12th. For more information, please call 410-222-7949.
The Arts Council of Anne Arundel County provides grant funding and support to over forty nonprofit organizations. Providing a resource for the cultural arts community through advocacy, funding, programming, and promotions; the Arts Council supports a variety of groups that include Maryland Hall, Anne Arundel County Trust for Preservation, and the Captain Avery Museum.  The Arts Council administers the Arts-in-Education Program serving both public and private Anne Arundel County Schools, which provides grant funding to bring performances and artists into auditoriums and classrooms. 
For more information about the Arts Council of Anne Arundel County and to find out more about the Annie Awards and membership call 410-222-7949 or visit www.acaac.org.
[do action="blackwall-hitch"/]