[do action="fringe"/]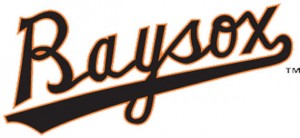 The Altoona Curve rallied from seven runs down to grab game one of the Western Division Series in walk-off fashion by a final of 8-7. The Baysox led by two runs into the ninth inning, but a three-run rally won the opener for Altoona.
Jose Osuna hit an infield single off of the third base bag to lead off the ninth inning. Then Austin Meadows tied the game with a two-run home run just outside of the leap of Mike Yastrzemski to tie the game at 7-apiece.
Barrett Barnes then hit a soft chopper to short and a hurried throw from Ozzie Martinez went into the seats. At second base with just one retired, Jacob Stallings singled to center to score Barnes to win the game.
Bowie jumped out to a 7-0 lead in the second inning with their biggest single-inning rally of the year. Chance Sisco started the rally with a groundball through the legs of shortstop Adam Frazier. Then after a Garabez Rosa double, Drew Dosch walked to load the bases. Ozzie Martinez singled home a run and after a wild pitch made it 2-0, Glynn Davis doubled home two more and the rally was on.
The Baysox sent 12 men to the plate in the inning that featured three Altoona errors.
Altoona got a run in the fourth inning and then a one-out grand slam from Barnes on a line drive over the left field bleachers to bring the Curve within 7-5. Jason Stoffel entered with two outs in the fifth inning and worked 2 and 1/3rd scoreless innings.
The loss was the first time all season that the Baysox lost a game they led after eight innings. Bowie had been 65-0 prior.  Bowie is just 2-6 at Peoples Natural Gas Field in 2015.
Altoona's rally sets up a pivotal game two on Thursday, September 10th at 6:00 p.m. as the Baysox look to even the series. LHP Nick Additon will get the start for the Baysox.
Coverage will begin at 30-minutes prior to first pitch on baysox.com, 1430wnav.com and via the Tune-In Radio App by searching Bowie Baysox. Radio coverage will begin at 6:30 p.m. on 1430-AM WNAV and 99.9 FM in Annapolis.
Bowie's first home playoff game will be Game Three of the Western Division Championship Series on Friday, September 11th at 7:05 pm at Prince George's Stadium. Get tickets today over the phone at 301-805-6000 or online at baysox.com.
[do action="blackwall-hitch"/]