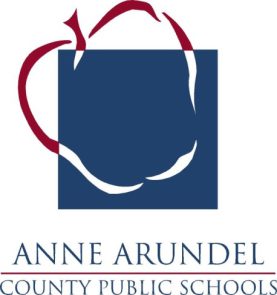 Nearly 500 teachers new to Anne Arundel County Public Schools began work last week and more than 5,000 veteran classroom teachers are returning to work today, the surest sign yet that the 2015-2016 school year is just around the corner.
AACPS is projected to have more than 80,000 students when the first bell rings on August 24, the most ever for the fifth largest school system in Maryland and one of the 50 largest in the United States. Those students will be greeted by expanded offerings, a new and exciting curriculum in kindergarten and first grade, and enhanced learning experiences through new community partnerships.
Adding to its extensive list of programs of choice, AACPS is set to open its third middle school Science, Technology, Engineering, and Math (STEM) magnet program at Central Middle School this year. In addition, the STEM magnets at Old Mill Middle School South and Lindale Middle School will add an additional class, as will the Performing and Visual Arts magnet program at Annapolis and Broadneck high schools. Monarch Global Academy Public Contract School will also expand by adding a sixth-grade class.
The Mary E. Moss Academy program has relocated to space in the J. Albert Adams Academy building in Annapolis for the 2015-2016 school year. The new Mary Moss at J. Albert Adams Academy will serve students in grades 6 through 9 with a curriculum focused around project-based learning with elements of the highly successful Advancement Via Individual Determination (AVID) program heavily infused throughout all courses.
Students in the 14 elementary schools and one early education center in the Meade and Southern clusters will see the addition of the Enhancing Elementary Excellence (Triple E) program, which was piloted successfully in the North County cluster last year. Triple E infuses an additional, exciting area of study for students within the existing school day and allows teachers to have much-needed increased collaborative planning time.
Students at Tracey's and Waugh Chapel elementary schools will also get to experience the International Baccalaureate Primary Years Programme (PYP) curriculum. PYP is now being implemented in 11 elementary schools across the county.
There are also four new prekindergarten programs this year, at Odenton, Overlook, Riviera Beach, and Severn elementary schools.
Staggered start for students
With the exception of six schools that will open a day late because of planned construction, the first day of classes for students in first through fifth, sixth, and ninth grades will be Monday, August 24. The staggered openings of secondary schools will give sixth- and ninth-graders a chance to get acclimated to their new surroundings before the remaining students return to class on Tuesday, August 25.
Kindergarten, prekindergarten students, and ECI students will also start school on a staggered schedule. Parents will receive their child's actual start date at their parent-teacher conference.
Delayed openings
Planned construction projects will delay the opening of six county schools. The following schools will open to students on Tuesday, August 25, so that teachers will have an additional day to set up classrooms and prepare for instruction:
Crofton Elementary School
Lothian Elementary School
Mills-Parole Elementary School
Magothy River Middle School
Southern Middle School
Mary Moss at J. Albert Adams Academy
Staggered start schedules at these schools will be moved by one day to accommodate the late opening.
In addition to the above schools, Central Special School, Marley Glen Special School, and Ruth Parker Eason Special School will open for students on Tuesday, August 25. Parent conferences at those three schools will take place on Monday, August 24.
Back home
After two years of attending class at Southern Middle School, students and staff at Lothian Elementary School will return to a brand new building this fall. The 84,588-square-foot facility has a capacity for 552 students and cost $31.7 million.
A ribbon-cutting for the new school will be held at 2 p.m. on Monday, August 24, the day before classes begin.
Construction completion
Students and staff at two other county schools will see construction projects completed this fall. A $28.5 million revitalization project at Crofton Elementary School will increase the space at that facility by more than 23 percent and result in 144 additional available seats. At Mills-Parole Elementary School in Annapolis, a $30.5 million revitalization project that will increase capacity by 60 percent and bring 272 additional available seats will also be completed this fall.
Students and staff have remained in both schools while construction was under way.
A ribbon-cutting for Crofton Elementary School will be held at 6 p.m. on September 24, while one at Mills-Parole Elementary School will be held at 6 p.m. on September 28.
Back-To-School Nights
All schools have scheduled Back-To-School Nights to provide parents with a chance to learn more about the instruction their children are receiving and the teachers who are providing that instruction. Detailed information on dates and times for every school can be found here.
New faces in new places
The nine-member Board of Education has four new faces this year: Tom Frank, Julie Hummer, Allison Pickard, and Jacob Horstkamp. All were appointed by Gov. Larry Hogan.
Frank holds one of three at-large seats and is fulfilling the term of former member Andrew Pruski which expires on June 30, 2018.
Hummer also holds an at-large seat that expires on June 30, 2019.
Pickard holds the District 33 seat vacated by Amalie Brandenburg last year. Her term expires on June 30, 2016.
Horstkamp, a senior at North County High School, is serving a one-year term as the Board's 44thstudent member. His term expires on June 30, 2016.
There also are new principals at 20 schools across the county. Nine of those schools – the Phoenix Academy; Brooklyn Park and Severn River middle schools; and Annapolis, Brooklyn Park, Hillsmere, Millersville, Severn, and Shipley's Choice elementary schools – will be led by first-year principals. Crofton Woods, Deale, George Cromwell, Linthicum, Quarterfield, Rippling Woods, and Tyler Heights elementary schools, as well as Arundel, Lindale, Marley, and Southern middle schools also have new principals who have moved from other principalships.
Policy and regulation changes
School employees, parents, and students will find a significant change regarding the use of cell phones in schools this year. The Board of Education in June approved revisions to the policy and accompanying administrative regulation, which now contain language on the use of such devices during the school day and for instructional purposes.
More information on all new policies and regulations can be found on the AACPS website and in the Code of Student Conduct contained in the Student Handbook.
New emergency contact cards for students
In an effort to save parents time and make the process more efficient, AACPS has redesigned the emergency contact card that is held on file for all students. Instead of filling out all information every year, parents will now be given a form that contains information currently on file for their child and asked to make any revisions or corrections. The new process will allow updated information to be entered into the student information system more quickly.
ParentConnectxp to go live, attendance calls to begin September 8
ParentConnectxp, the online portal that allows parents to see their child's assignments, grades, and attendance records, will be available across the school system on Tuesday, September 8, 2015.
Parents who do not yet have access to ParentConnectxp can sign up here.
Automated attendance calls for students who are absent and whose parents have not previously notified the school of that absence will also begin on September 8.
Security reminder for visitors to schools
County schools are equipped with A/I phones which allow office personnel to communicate with visitors to determine the nature of their visit before allowing admittance to the school office. Parents, community members, school system employees, and others planning to visit schools are reminded that AACPS security procedures require all visitors to show a government-issued identification card (such as a driver's license) to be admitted into a school. The ID card is scanned through a system that cross-references visitors against sexual offender databases.
Visitors must not hold the front door of a school open to allow other visitors not in their party into a school.
Fueled up and ready to go
This year, nearly 652,000 hours will be spent driving more than 700 buses over 10.1 million miles to transport students to and from schools.  On a daily basis, nearly 58,000 students use county school transportation services.
Bus services are offered to students living outside designated walking areas at each school. Prekindergarten and kindergarten students who live greater than one-half mile from school, elementary school students who live greater than one mile from school, and middle and high school students who live greater than one-and-one-half miles from school receive transportation services.
Routine bus evacuation drills will be conducted throughout the school year.
Complete school bus schedules and procedures can be found here.
Fuel for achievement
The cost of school meals for students will not increase this year. School breakfasts will cost $1.50, with lunches at elementary and secondary schools costing $2.75 and $3.00, respectively. At all schools, reduced-price breakfast is free and reduced-price lunch is 40 cents. The cost of milk will remain at 55 cents per bottle.
In addition to unlimited choices of fresh fruits and vegetables daily, AACPS offers a variety of meal options to ensure students are properly fueled for the school day.  Forty-nine schools – five more than a year ago – will offer free breakfast to all students as part of the Maryland Meals for Achievement program. Ten schools will allow students to purchase breakfast and eat with teachers and peers in the classroom as part of the Breakfast with Class program.  In addition, 31 schools will serve free early evening meals to students through a federally-funded initiative aimed at supporting good nutrition and combating youth hunger.  The school system also served more than 70,000 meals to young people this summer.
Students who wish to apply for free or reduced-price meals must complete a new SY2015-2016 Meal Benefit Application. Applications are accepted throughout the school year and are now available online at https://applyformeals.aacps.org/ .
For the seventh straight year, AACPS is utilizing an enhanced computer system, MyPaymentsPlus, to make meal purchases faster and easier. Students whose parents deposit money into an account can use their six-digit student identification number to make purchases. Parents can register to receive emails when balances are low, and can monitor their child's purchases. Questions about the prepayment programs should be directed to the school a child attends.
AACPS menus will feature additional healthy options for all students. Choices include additional fresh fruits and vegetables, more whole grain options, and more lean protein and low-fat dairy options.
Last year, AACPS served 5.2 million lunches and 3.4 million breakfasts in schools. The system receives no county funds to operate lunch and breakfast programs. Revenue for the program comes from federal reimbursements (54 percent), food sales (43 percent), and state funding (3 percent).
Communication with parents continues to expand
AACPS continues to expand the ways in which it communicates with parents and students, with all county schools now using Twitter pages. The school system's automated notification system, Connect-ED, is also linked to these pages, providing yet another outlet of information for parents. To see the Twitter pages for all schools, click here.
Last week, AACPS announced the launch of Instagram and Pinterest pages. The Instagram page will be used to showcase student artwork while the Pinterest page will contain resources for parents, students, and employees.
Notices of emergency closings and delays
Changes to school schedules caused by inclement weather or other emergency conditions are announced through Connect-ED via telephone, email, and text message; posted on the school system's website (www.aacps.org), Facebook page (www.facebook.com/aacps), and Twitter page (www.twitter.com/AACountySchools); posted on all school Twitter pages; and announced on major area radio and television stations, including AACPS-TV (Channel 96 on Comcast and Broadstripe, and Channel 36 on Verizon).
In addition, announcements are posted (and parents may sign up for email alerts) on the School's Out website (www.schoolsout.com).
Board meetings on TV and website; Board votes online
Meetings of the Board of Education, which typically occur on the first and third Wednesdays of most months, are broadcast live on AACPS-TV and on Livestream on the Internet.
AACPS-TV can be found on Channel 96 on Comcast and Broadstripe, and Channel 36 on Verizon. High definition broadcasts can be seen on Channel 996 on Comcast and Channel 496 on Broadstripe.
Livestream broadcasts can be found here.
Archived videos of Board meetings can be found online at www.apacps.org/boardvideos.
Voting records of Board members are categorized by meeting date and can be found online here.
Source: AACPS
[do action="blackwall-hitch"/]