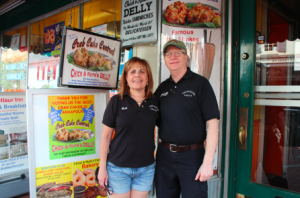 If you ask Chick & Ruth's Delly owner Ted Levitt the key to his restaurant's success, he'll tell you without hesitation, "friendly service and good food. Keep it old-fashioned. Keep it original." This philosophy has paid off over the years, so much so that Ted and his wife Beth will be celebrating the 50th anniversary of the iconic 165 Main Street restaurant on Sunday, August 16.  
The couple is inviting faithful customers and newcomers alike to stop by and help them celebrate. As a thank-you to customers past and present, Ted and Beth will be giving away $50 gift certificates to randomly selected tables throughout the day. At the same time, they'll be matching every dollar donated that day to Faces of Valor USA, a nonprofit organization Ted established eight years ago to assist wounded police, fire and emergency personnel as well as members of the military wounded in the line of duty.
Chick & Ruth's is likely to serve between 1,200 and 1,500 people on August 16 – a typical Sunday turnout  — and a testament to the Levitt family's time-proven belief that good old-fashioned hospitality and a genuine love of people builds loyal customers and friends for life.
Annapolis & Anne Arundel County Conference and Visitors Bureau (AAACCVB) President and CEO Connie Del Signore says the whole of Annapolis benefits from Ted's dedication, commitment and hospitality. "Chick & Ruth's Delly is an Annapolis landmark, a true slice of Americana. For 50 years, generations of locals and visitors have flocked to the restaurant for more than just good food. They come for the camaraderie, for the feeling of being at home, of being with friends."
Individuals who snag a seat for Sunday's festivities will be ordering from a menu featuring more than 120 sandwiches and dishes bearing the names of elected officials past and present – a big jump from the 8-9 items available when Chick and Ruth Levitt opened the restaurant in August 1965. At that time, popular menu items included the VP Spiro T. Agnew – a ham, turkey and bacon sandwich; the President Richard Nixon – a Ribeye steak, cheese and onion sandwich; and the Pip Moyer – a popular hot dogs and baked beans entry named after the then Annapolis Mayor.
From the minute guests walk through Chick & Ruth's doors, Ted and his staff are quick to make them feel at home. Like Ted says, "There are no strangers here." If you're unattached, look out! Ted's quite the matchmaker. He introduces guys and girls sitting at opposite ends of the restaurant, gets them talking and enlists their help with his magic tricks. The end result? People who were strangers minutes before are now sharing a meal, a booth, their hopes, their dreams.    
Ted's introduced hundreds of couples over the years. So successful is he at his art that 11 of them have gotten married. Seven of the 11 couples got engaged at Chick & Ruth's, and one couple even tied the knot there. Ted remembers it well, "It was 2008. The bride wore orange" (to match the décor) – and a packed house of unsuspecting diners-turned-wedding-guests enthusiastically joined in the celebration!
The 59-year-old veteran restaurateur got his start in November 1965 when Chick had a heart attack, just three months after opening up shop. During his father's six-month recovery, nine-year-old Ted and his sisters, Natalie and Iris, pitched in to help their mom run the business. Chick had taught Ted how to slice meats, so slice meats he would – beginning at 4:30 a.m. until he caught the 8:00 a.m. bus to Germantown Elementary. After school, he'd return to sweep and mop the floors. On weekends, Ted filled in as cashier. Standing on a milk crate bedecked in his white shirt and black bow tie, the young entrepreneur rang up sales from a faithful Chick & Ruth's following.
As crowded as the 50-seat restaurant might get, there was always room for the governor. Chick made sure of that when he introduced the now famous "Governor's Booth" in 1967. A Chick & Ruth's regular, Marvin Mandel ate his first breakfast as Governor in that booth – a tradition repeated by Maryland governors ever since. At the age of 90, Mandel continues to stop by. He's not alone. A host of current and former Annapolis mayors, governors and state legislators are familiar faces at Chick & Ruth's – both in person and on the walls, where images of local, national and international celebrities with ties to the restaurant consume every inch of available wall space.
When it became clear that every inch of available floor space wasn't enough to quickly and efficiently serve the restaurant's growing customers, Chick added an additional 40 seats by opening up the back room in 1974, the year Ted graduated from high school.
After 11-12 years of working weekends and after school on the grill and as a waiter, Ted headed to the Culinary Institute of America in Hyde Park, New York. He completed the two-year program and went on to receive a Bachelor of Science in Accounting from Florida International University in South Miami.
Then, look out! Ted returned to Chick & Ruth's in 1979 and began serving up good old-fashioned food and hospitality fulltime. Desserts – including the restaurant's famous 20-ounce shakes – had been added to the menu in the early 1970s. Fresh out of culinary school, Ted introduced jumbo liter shakes and bumped the selection of flavors from three to nine. His six-pound Colossal Shake of "Man vs. Food" fame was to follow years later in 2005.
Beth joined the family when she and Ted married in 1981. By the mid-1980s, Ted began honing the magic he's so famous for. After his mother Ruth died in 1986, Ted took his show on the road to raise money for cancer research. He spent Tuesday afternoons giving free performances in the children's ward at Anne Arundel County Hospital. Once a year, he'd perform at Camp Sunrise, a summer camp in Maryland for children who had survived cancer or been diagnosed with it. All the while, Chick & Ruth's patrons were treated to tableside magic – a tradition that continues today with the kids of the kids who marveled at his abilities years ago. Through paid magic shows for businesses and corporations, Ted has generated more than $800,000 for cancer research.
As the restaurant grew, so did the size of the Levitt family. In 1982, Beth gave birth to their son Scott, and Lauren was born two years later. Like their father, the Levitt kids worked in the restaurant while they were growing up. In their honor, Ted and Beth named the bed and breakfast they opened above the restaurant in 1986 the Scotlaur Inn. The ten-room bed and breakfast has been an Annapolis staple ever since.  
Three years later, Ted began inviting Chick & Ruth's customers to join him in reciting the Pledge of Allegiance to the Flag every morning. To this day, the Pledge is recited every weekday at 8:30 a.m. and on Saturdays and Sundays at 9:30 a.m. As he invites his customers to stand, Ted promises, "It's guaranteed to get your day off to a great start."
After 30 years at the helm of Chick & Ruth's, Chick passed away in 1995 at the age of 67. Only then did the 39-year-old Ted discover his father had put the restaurant and the building in Ted's name when he was just 13.
Committed to honoring the Chick & Ruth tradition, Ted and Beth continued to grow the menu and the restaurant's loyal following. Between 2010-2012, they introduced homemade donuts and apple fritters made on site from old-fashioned recipes. At the same time, Ted tapped into some old rye and multigrain bread recipes and began producing the breads and Kaiser rolls on site daily
By February 2015, Chick & Ruth's customers were sinking their teeth into homemade pies – in 40 flavors – all made from scratch on the premises with only natural ingredients. Ted had lobbied the owner of a Toledo, Ohio diner for three years to snag the pie recipes. After Ted trained in the Toledo kitchen, the owner sent his baker to Chick & Ruth's to help Ted master the recipes on site. To make sure customers enjoy the freshest breads, pies and pastries, Chick & Ruth's kitchen crew begins baking daily at 3:30 a.m.
The sandwiches and dishes Chick & Ruth's is most famous for are highlighted in yellow on the menu, and there's a lot of yellow! While Ted's Reuben, corned beef and pastrami are among the most popular sellers, he'll tell you his famous half-pound crab cakes outsell them all. He's been shipping them across the continental United States from "Crab Cake Central" since 2005.  
You could say Chick & Ruth's Delly runs like a well-oiled machine. Ted is on the floor six days a week. Beth handles day to day operations and fills in when Ted is gone. Together, they keep the restaurant running from 6:30 a.m. until 11:30 p.m. Sundays through Thursdays and from 6:30 a.m. until 12:30 a.m. on Fridays and Saturdays.  
The waiters and waitress know how to provide fast service with a smile, and their dedication is apparent. Two Chick & Ruth's employees worked 36 and 37 years respectively before retiring. One of their cooks has been a part of the team for 19 years, and several waiters and waitresses over the years have put in more than ten years at the Delly. With this kind of longevity, it's easy to see why so many of Chick & Ruth's customers feel like everyone knows their name.
As Ted reflects on his 50 years at Chick & Ruth's, he's quick to say he couldn't have done it without Beth and he wouldn't have done it any other way. "There's nothing I would have done differently. All I wanted to do when I was growing up was work with my dad and mom. Ever since I was 12-13 years old, my dad and I would go out on Tuesday nights until the day he died. I wouldn't want to work anywhere else. The town is great, the people are great. We're in a living, thriving community that keeps the charm of the old days."
What gets Ted out of bed every morning? "I love the people who come in, the customers. I get to meet people from all over the world. I get to know and meet the locals. That's why I do it. You get to know people, to know and see 5th and 6th generations of families. They've become my friends. I got to know them through the restaurant over the years. It's a good, fun place to work. It's like going back in time when you work here, like Cheers. People are down to earth when they come here."
Chick & Ruth's is a mom and pop success story that Ted and Beth plan to take well into the 21st century. Their formula is simple and their mission is clear, "We want to keep everything fresh, clean and friendly and be here for years to come."
[do action="blackwall-hitch"/]