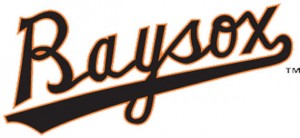 The Baysox got off to a good start with two unearned runs in the first inning but saw the lead slip away in a 9-2 loss to Binghamton on Wednesday night.
The Baysox scored twice in the opening frame. SS Ozzie Martinez reached on a dropped throw at first base and 2B Corban Joseph followed as a throwing error by the pitcher put two on with two down. Bowie would have a run home when LF Quincy Latimore singled home a second run on a groundball up the middle.
Binghamton would battle back. They scored two runs to tie the game in the third and then got a sacrifice fly to grab the lead from DH Brock Peterson in the fourth inning. 2B LJ Mazzilli slid in safely ahead of the tag from Baysox C David Freitas.
Up 4-2, Binghamton sent ten men to the plate in the seventh inning, plating five runs to grab a 9-2 lead.
Bowie registered four hits in the game but still had many at-bats with runners in scoring position. The Baysox went 1-for-11 in the game with RISP. Binghamton stole five bases in the game, tying a season high for stolen bases allowed in a game by Bowie this year. RF Mike Yastrzemski stole his second base in as many games for the Baysox in the loss.
Even with the defeat, the Baysox lead Altoona and Richmond by four games and Akron by five in the division.
The series continues Thurssday, August 6th as LHP Chris Lee will make his Eastern league debut. Coverage will begin 20-minutes prior on 1430-AM WNAV and 99.9 FM in Annapolis. You can also listen online on 1430wnav.com and via the Tune-In Radio App by searching Bowie Baysox.
Bowie is back at home for a seven-game homestand beginning with Navy Night Friday, August 7th at 7:05 p.m. The entire plebe class of the Naval Academy will be in attendance with fireworks following the tilt with New Hampshire (Toronto Affiliate). Get tickets at 301-805-6000 or online at baysox.com.
[do action="blackwall-hitch"/]
Category: LIFE IN THE AREA, OPINION