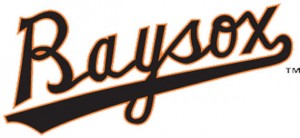 The Baysox got two, two-run home runs as LF Quincy Latimore and RF Mike Yastrzemski each left the yard in a 5-3 win in New Britain Tuesday night. With the win the Baysox have a chance for a series sweep Wednesday night.
After Baysox starter Ariel Miranda danced out of a third inning jam, the Baysox offensive attack went to work. In the fourth inning after as one-out walk from 1B Trey Mancini, Latimore lifted a home run to center field, his team leading 15th of the season. The Baysox led 2-0.
Then in the sixth inning, Mancini was running from first on a 3-2 pitch as C Chance Sisco lined a double into left-center field to score Mancini. A batter later the lead expanded as Yastrzemski roped a home run over the right field wall for a 5-0 advantage. It was Yastrzemski's fourth home run of the season.
In the seventh inning, Bowie's lead nearly slipped away. New Britain put together three consecutive RBI-singles but left the tying runners aboard. In the eighth, runners were at second and third with one down but relievers Ashur Tolliver and Jason Stoffel struck out consecutive batters to preserve the lead.
Andrew Triggs worked a scoreless ninth inning for his 15th save in as many attempts. The Baysox used five relievers in total in the game. The win for Miranda was his fourth consecutive victory and his fifth in seven starts with Bowie.
The Baysox conclude their final ever series in New Britain, CT on Wednesday, August 26th at 7:05 p.m. LHP Chris Lee will make his fifth Bowie start. Coverage will begin 20-minutes prior to first pitch on 1430wnav.com, baysox.com and the Tune-In Radio App by searching Bowie Baysox.
The Baysox return for their final homestand of the regular season Monday, August 31st at 7:05 p.m.against the Altoona Curve with major playoff ramifications potentially in place. Get tickets at 301-805-6000 or online at baysox.com.
[do action="blackwall-hitch"/]