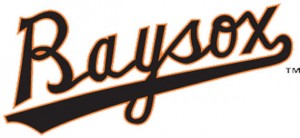 The Baysox won their third game in a row thanks to a strong outing from starter Ariel Miranda (2-1, 1.66) and a high-powered offense.  Bowie hit six doubles and two home runs en route to an 11-3 win over Richmond in the series opener Monday night.
The Baysox were able to put a run on the board in the first inning for the third game in a row after Glynn Davis led off with a single and then stole second with Derrik Gibson batting.  Gibson, who was back for his first game with the team since May 15, singled to move Davis to third.  Trey Mancini then grounded into a double play but it was enough to score Davis and give the Baysox a 1-0 lead. 
With two outs in the third inning, the Baysox rallied for a pair of runs against Richmond starter Kelvin Marte. Gibson doubled, Mancini walked and Brandon Snyder doubled to knock in two runs and put Bowie up 3-0.
The Baysox scoreless inning streak ended at 21 innings in the fourth inning when Richmond struck for a run against Miranda. After Rando Moreno led off with a walk, Austin Slater singled to move Moreno to third and Ricky Oropesa hit a sacrifice fly to score Moreno and make the score 3-1. 
David Freitas then hit a solo home run in the fourth inning to give the Baysox a 4-1 lead.
Mancini put the Baysox up 6-1 in the fifth inning with a two-run homer, his eighth of the season. The home run plated Gibson, who recorded three hits and reached base five times in the game for Bowie.
Freitas led off the bottom of the sixth with a double off Richmond reliever Edwin Quirarte, leaving him just a triple shy of the cycle, and Rosa followed with a walk.  Freitas was plated by a double from Drew Dosch and a double from Davis scored two more runs to give the Baysox a 9-1 lead. 
The Flying Squirrels were able to load the bases and pick up two runs with Pat McCoy pitching in the eighth inning. McCoy was then replaced by Andrew Robinson on the mound and Austin Slater grounded out into a force out at second to score a run.  Robinson then threw a wild pitch to plate the runner at third and make the score 9-3. 
The Baysox added to their lead in the eighth after Trey Mancini hit a two RBI single with the bases loaded against Richmond reliever Kyle Crick to give Bowie the win by a final score of 11-3. 
Miranda picked up his second win of the season with Bowie after giving up one run on three hits over 6.0 innings. Mccoy threw 1.1 innings and allowed two runs on two hits while striking out one and walking one batter. Robinson pitched the final 1.2 innings, allowing one hit and striking out one.
Marte took the loss for Richmond, throwing five innings and allowing six runs on 11 hits while walking one.
The Baysox play Richmond on Tuesday night in the second game of the series at 7:05 p.m. with lefty Chris Lee (1-0, 5.06) on the mound against Matt Gage (2-1, 1.96). Every Tuesday home game is Dollar Dog Night as the gates open early at 5:00 p.m. for Tailgate Tuesday happy hour.
Baysox Baseball – We'll Knock Your 'Sox Off. The Baysox 2015 season, their 23rd as the class Double-A Affiliate of the Baltimore Orioles, is underway at Prince George's Stadium. Come see some of the top Orioles prospects play here first. To keep up with Baysox news during the season, visit baysox.com.
[do action="blackwall-hitch"/]