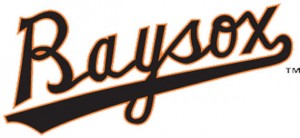 The Baysox outlasted Trenton 7-3 in a very wet contest Thursday evening to take the three game home series. Bowie benefitted from three Trenton errors to score three unearned runs in the win. 
The rain worked to the Baysox benefit as the team rallied for three insurance runs in the eighth inning after Trenton had cut the Baysox lead to 4-3. Two of the three Trenton errors were committed during the wet eighth inning of the game. 
Trenton got out to a quick start against Baysox starter Ariel Miranda in the top of the first inning. Ali Castillo drew a lead-off walk and scored on a one out Tyler Austin double to center field. Rob Segedin brought Austin home on a single down the right field line to give the Thunder a 2-0 lead.
The Baysox kept the high-scoring first inning going against Trenton starter Taylor Garrison. Chance Sisco got things going with a one out home run to left field – his first Double-A home run. After Trey Mancini reached on a throwing error by Tyler Wade, Quincy Latimore hit his team-leading 14th home run to give Bowie a 3-2 lead.
Bowie added a run in the bottom of the third inning. Mancini hit a one-out triple to right field and scored on a two-out Brandon Synder ground-rule double to make the score 4-2.
Trenton got a run back in the top of the seventh inning. Juan Graterol drew a one out walk and Jason Stoffel then replaced Miranda on the mound. Cito Culver followed with a double down the left field line that moved Graterol to third base where he scored on a Ali Castillo groundout to make the score 4-3.
The Baysox added some insurance runs in the bottom of the eighth inning against Trenton pitcher Rookie Davis. Snyder hit a one out triple to right-center field and scored when Mike Yastrzemski reached on a fielding error by first baseman Dante Bichette Jr. Derrik Gibson was then hit-by-a-pitch before Cesar Vargas replaced Davis on the mound. With two outs, Drew Dosch singled to right-center field to plate Yastrzemski and Gibson scored with Corban Joseph reached on a fielding error by third baseman Rob Segedin to give Bowie a 7-3 win
Miranda threw 6.1 innings and allowed three runs on four hits while striking out three and walking two in the win. Stoffel pitched 1.2 scoreless innings, allowing one hit while striking out one and walking one batter. Baysox closer Andrew Triggs pitched a scoreless ninth inning in a non-save situation. 
The Baysox open a three-game home series against the Altoona Curve Friday with LHP Chris Lee on the mound at 7:05 p.m. Friday is Legends of Wrestling Night and the Dudley Boyz will be in attendance.
Baysox Baseball – We'll Knock Your 'Sox Off. The Baysox 2015 season, their 23rd as the class Double-A Affiliate of the Baltimore Orioles, is underway at Prince George's Stadium. Come see some of the top Orioles prospects play here first. To keep up with Baysox news during the season, visit baysox.com.
[do action="blackwall-hitch"/]
Category: LIFE IN THE AREA, OPINION, Sports