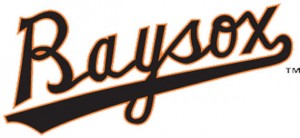 The Baysox needed a late rally to come from behind and beat the Trenton Thunder 6-5 Sunday afternoon. Trailing 4-3 entering the seventh inning, the Baysox put up three runs to take the lead for good. The win gives the Baysox a third series victory over the Thunder this season. 
The Baysox jumped out to an early lead in the bottom of the first inning against Trenton starter Danny Burawa. Corban Joseph hit a one out double to right field, moved to third base on a wild pitch and scored on a Trey Mancini sacrifice fly to make the score 1-0. 
Bowie added another run without a hit in the bottom of the third inning to take a 2-0 lead. Ozzie Martinez drew a one out walk and Joseph was then hit-by-a-pitch. Martinez then scored when Mancini reached on a force out at second and throwing error by Trenton shortstop Cito Culver.
Trenton came storming back with a big fourth inning against Baysox starter Joe Gunkel. Mark Payton hit a lead-off single to left field and moved to third base on a Tony Renda single to right field. Payton was thrown out at home when Francisco Arcia reached on a fielder's choice that put runners on second and third with one out. Eddy Rodriguez hit a sacrifice fly to right field, but Brandon Snyder dropped the fly ball allowing two runs to score and allowing Rodriguez to reach third base where he later scored on a Jose Rosario single to left field. With two outs, Jake Cave doubled to right field to score Rosario and give the Thunder a 4-2 lead. 
The Baysox got one run back in the bottom half of the inning. Yastrzemski drew a one out walk, David Freitas singled and Garabez Rosa walked to load the bases before a wild pitch allowed Yastrzemski to score and make it 4-3.
Bowie jumped back into the lead in the bottom of the seventh inning against Trenton reliever Matt Tracy. With one out, Joseph singled to left field before Alex Smith replaced Tracy on the mound. Mancini followed with a single and Snyder brought Joseph home with a ground-rule double to left field. Quincy Latimore singled through the hole at shortstop to bring home the second run of the inning and a Freitas sacrifice fly plated Snyder to give the Baysox a 6-4 lead.
The Thunder rallied in the top of the ninth inning against Baysox closer Andrew Triggs, who had not allowed a run since May 20. Cave hit a lead-off single to left field, moved to second base on a wild pitch and scored on a two-out Payton single to right field to make the final score 6-5. 
Gunkel threw five innings and allowed four runs (one earned) on seven hits while striking out four in a no decision. Reliever Pat McCoy threw two scoreless innings, allowing three hits and striking out one batter in the win. Relievers Marcel Prado and Triggs threw the final two innings, allowing just one run as Triggs earned his 12th save of the season.
After an off day Monday, the Baysox head to Binghamton for a three-game roadtrip against the Mets. Bowie returns home Friday, Aug. 7 for a seven game homestand against the New Hampshire Fisher Cats and Richmond Flying Squirrels. 
Baysox Baseball – We'll Knock Your 'Sox Off. The Baysox 2015 season, their 23rd as the class Double-A Affiliate of the Baltimore Orioles, is underway at Prince George's Stadium. Come see some of the top Orioles prospects play here first. To keep up with Baysox news during the season, visit baysox.com.
[do action="blackwall-hitch"/]