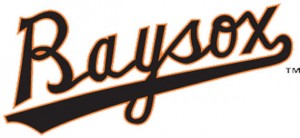 The Baysox brought forth a late-inning rally, led by DH Brandon Snyder, but it was not enough in an 8-5 defeat in Altoona. Snyder was 2-for-4 with a home run and three runs driven in.
The game got off to an ugly start for Bowie. The Baysox committed two errors in a four-run second inning for the Curve. Three of the four runs were unearned.
Bowie could get nothing going against Curve starter and Pirates top-ranked prospect Tyler Glasnow. Glasnow, who is was making a third start since an ankle injury in May, went six innings, allowing one hit while fanning seven Bowie hitters. He left with a 7-0 lead.
The Baysox scored twice to get on the board in the seventh inning on a high drive to left field by Snyder. The fly ball went into the first row of seats in the bleachers for a two-run home run. It was the team high ninth of the year for Snyder.
Bowie plated three runs in the ninth inning as 1B Trey Mancini, Snyder and RF Mike Yastrzemski all reached with hits. All would later score in the inning but it was not enough.
The Baysox committed four errors which led to four unearned runs in the game. The error total was a season high. Bowie has yet to win a game in Altoona this year dropping their first four contests at People's Natural Gas Field. Bowie's division lead is one game over Altoona entering Saturday's game two.
The series continues Saturday, July 11th at 6:00 p.m. in Altoona with coverage beginning 20-minutes prior via wnav.com and the Tune-In Radio App by searching Bowie Baysox.
Bowie returns home after the all-star break on Thursday, July 16th hosting the Washington Nationals affiliate, the Harrisburg Senators in a four-game series. Get tickets by calling 301-805-6000 or online at baysox.com.
[do action="blackwall-hitch"/]
Category: LIFE IN THE AREA, OPINION, Sports