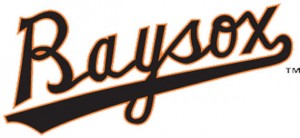 Baysox outfielders Quincy Latimore and Tucker Nathans each homered as Bowie never trailed in a 6-3 win in Akron Tuesday night. With the victory, the Baysox are 5-1 on their weeklong road trip and are winners of six off their last seven games.
Latimore started the scoring in the second inning with his tenth home run of the year. But the Baysox would jump well in front in the third inning.
Akron starter Jordan Cooper walked three batters to load the bases. With two down, CF Mike Yastrzemski lined a shot to left-center field. Akron CF Bradley Zimmer tracked it down but as he reached up to make the catch the ball skidded past his glove hand and all the way to the wall. The critical error allowed all three runs to score and the Baysox led 4-0.
The RubberDucks battled back scoring three runs on three hits in the bottom of the third against Baysox starter Joe Gunkel. He would not be dented again, as Gunkel allowed just one hit following the third in another strong start. He worked six innings in the game for his seventh quality start in ten starts with Bowie.
The momentum did not stay with Akron long. Baysox DH Tucker Nathans led off the fourth inning with a soaring home run to right field to put Bowie on top 5-3. It was his third of the year with Bowie and his tenth of the season overall. The Baysox added another unearned run in the seventh inning.
The Baysox got more stellar work from their bullpen. RHP Richard Rodriguez worked two scoreless innings. Reliable closer Andrew Triggs closed it down in the ninth inning for his tenth save in as many tries this year.
With the win Bowie leads Altoona by two games, Richmond by four, Akron by five and Harrisburg by eight in the division.
The Baysox and Akron look for the sweep Wednesday afternoon at 12:05 p.m. with RHP Terry Doyle on the hill. Coverage will begin 20-minutes prior on 1430wnav.com and via the Tune-In Radio App by searching Bowie Baysox.
Bowie is back at home Thursday, July 30th for a four-game weekend series with Trenton. Fireworks will follow the Friday and Saturday night games. Get tickets at 301-805-6000 or online at baysox.com.
[do action="blackwall-hitch"/]