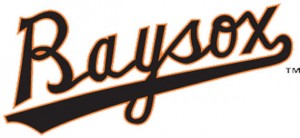 A wild start turned into a day to remember for 2B Corban Joseph who homered twice and finished a double shy of the cycle in Bowie's 10-3 Sunday afternoon win in Harrisburg.
After a wild first inning that included five combined errors and a Harrisburg 3-2 lead, Bowie went to work in the second inning. C David Freitas singled and LF Johnny Ruettiger did as well with a bunt up the third base line. Next man up 3B Drew Dosch bunted back to the mound but pitcher Matt Purke, looking to get the lead runner at third base, threw the ball away. Freitas scored and the table was set for the big inning.
SS Ozzie Martinez bounced out to give Bowie the lead 4-3. Joseph singled with an error in left field allowing a run home and later RF Quincy Latimore doubled home two more runs for a 7-3 lead.
The spotlight then squarely turned to Joseph. He hit a two-run home run in the fourth inning off of Purke to lift Bowie atop 9-3. In his next at-bat, Joseph did it again with a solo shot into the Sens bullpen in right field. He finished the game 4-for- with two home runs four RBI's three runs scored and a walk. It was the second two home run game of Joseph's career.
Baysox starter Parker Bridwell (4-5) did not allow an earned run in five innings. Patrick McCoy then worked two scoreless in his Bowie debut followed by Kenn Kasparek and Ashur Tolliver who each worked 1-2-3 innings.
With the win the Baysox get their first series win of July taking three of four from Harrisburg.
Bowie now heads to Akron with RHP Elih Villanueva on the hill with a 7:05 start Monday, July 27th.  Coverage will begin 20-minutes prior on 1430wnav.com and via the Tune-In Radio App by searching Bowie Baysox.
Bowie is back at home Thursday, July 30th for a four-game weekend series with Trenton. Fireworks will follow the Friday and Saturday night games. Get tickets at 301-805-6000 or online at baysox.com.
[do action="blackwall-hitch"/]