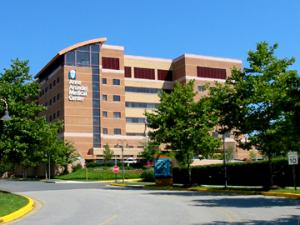 Families with babies born at AAMC's birth center will soon have access to expanded services designed to enhance the patient and family's experience thanks to a donation by Thomas J. Frank and his wife, Nancy. Today, the Frank family presented AAMC's birth center with a $3 million donation that includes a cash donation and a future estate gift.
"Anne Arundel Medical Center's birthing center has meaning to us. Our friends have had excellent treatment here, and we have a passion for helping children and their families. We are delighted to make the greatest impact locally and for the future of our children and grandchildren," says Mr. Frank. He formerly owned Shady Oaks Marina in West River, Md. The Frank family now lives in Palm Beach Gardens, Florida. 
The donation enhances the patient experience in the birth center by bringing additional diagnostic expertise and technology into the facility, such as an expanded neonatal nurse navigator program specifically working with families who have children born with special needs; a new inpatient maternal fetal testing site supporting AAMC's ability to care for high-risk obstetrical patients; and other developments designed to enhance the patient and family's experience. 
The second and third floors of the Clatanoff Pavilion are now named The Thomas J. Frank Family Birth Center in honor of the Frank family.
"We are extremely grateful for the Frank family gift. As one of the busiest birthing centers in Maryland and one that takes care of a large number of high-risk pregnancies, expanding care and services to include the latest in technology and diagnostic testing is essential," says Henry Sobel, MD, AAMC's chair of women's and children's services. 
The gift represents a 113-year history of community support that has helped build Anne Arundel Medical Center since its inception.
"Our hospital was founded with an act of philanthropy—the gift of a farmhouse that became the Annapolis Emergency Hospital," explains Jan Wood, president of the AAMC Foundation. "Donations of every size have been instrumental in enabling AAMC to become a state-of-the-art regional medical center. The Frank's generosity is an important example of support of healthcare in our community."
Watch a video of Thomas and Nancy Frank talking about why they chose AAMC for their generous gift.
[do action="blackwall-hitch"/]