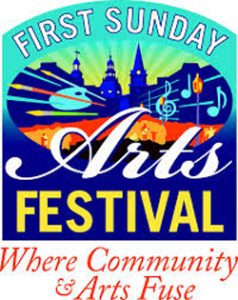 The hottest in Summer Fun returns to downtown Annapolis on Sunday August 2 with the First Sunday Arts Festival on Calvert and West Streets from 11am to 5pm
The day is going to be filled with one of this street festivals biggest music line ups ever! The music starts big in the Stan and Joe's parking lot at noon with the Jello Boys playing the hits from the Grateful Dead. At 3pm is your opportunity  to hear a band that played at the historic Carr's Beach when The Pipe Dreamers take over the stage.
In Weisman Park next to the Visitor's Center the music line up starts at noon with your chance to get your funk on with The Late Bloomers, followed by some great rock with the Grey Dog Band at 3pm.
In Whitmore Park check out the sounds of summer with the Chesapeake Steel Drum Band starting at 3pm. On a softer note under the trees by City Gate you can take in the sounds of Joanne and Adriene.
Entertainment for the kids includes a kids band at noon in Whitmore Park, plus balloon animals from the Gypsy Queen, face painting by Shannon Sterner. Kids can also take a break in the shade and enjoy a free story time throughout the day in Whitmore Park hosted by JNP Project.
The most popular part of the festival, remains true with the streets and parks will be filled with over 100 artisan vendors starting at 11am selling handcrafted furniture, baskets, sculptures, blown glass, pottery, jewelry, books, home décor, paintings, photography and more. Three will be plenty of unique and original art and craft items for you to shop for.
When you get hungry the cafes on West Street will spill into the streets giving you a chance to eat some of the best in international fare. Choose from Italian, Mexican, Asian, Irish and American cuisine. At Whitmore Park on Calvert Street the food options continue for those on the go from the food trucks. There is also wine tasting from the local Annapolis Great Frogs winery and a local root beer maker Thunder Beast in Whitmore Park.
Once the First Sunday Festivals end at 5pm the festival After Parties begin. Head inside and check out the following After Parties; Gospel Sushi at Tsunami, folk music and a art reception at 49 West Coffeehouse, live music on the back patio at Rams Head Tavern and a outdoor movie at dark on the back patio of Reynolds Tavern.
Parking at the festival is always easy. Two parking garages (Whitmore Garage and Gott's Court Garage) are located right next to the festival on Calvert Street. Free parking is available two blocks from the festival at the State Parking Garage on the corner of Calvert and Bladen Street. Admission is always free to the festival and friendly pets are welcome.
The First Sunday Arts Festivals will continue this year on September 6, October 4 and November 1. The October festival will be a special Double feature Festival with the First Annapolis Chalk Festival being held simultaneously. For more information about First Sunday Arts Festivals please visit www.firstsundayarts.com
[do action="blackwall-hitch"/]