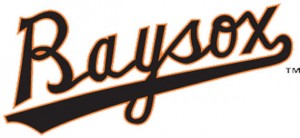 The Senators struck for three runs, aided by two errors and three walks, to beat the Baysox 4-1 in 11 innings in the series opener Thursday night. The Baysox committed four total errors in the game, tying a season-high.
The Baysox quickly shook off the rust from their All-Star break to score first in the bottom of the second inning against Harrisburg starter Richard Bleier. Quincy Latimore hit a lead-off double to right field, moved to third base when Rossmel Perez reached on a fielding error and scored on a David Freitas groundout to give Bowie a 1-0 lead.
Harrisburg tied the game in the top of the sixth inning against Baysox starter Elih Villanueva. Brian Jeroloman hit a lead-off single to right field and moved to second base on a Derrick Robinson sacrifice bunt. With two outs, Chris Bostick walked and Brian Goodwin followed with an RBI single to right field to make the score 1-1.
The Senators blew the game open in an error filled 11th inning by the Baysox. With reliever Ashur Tolliver on the pitch, Bostick hit a lead-off single to center field and Goodwin followed with a walk. Matt Skole brought Bostick home with a single to center field and Goodwin scored on a throwing error by Baysox catcher Rossmel Perez. Skole moved to third base on a groundout by Shawn Pleffner and scored with two outs on an Tolliver throwing error on a pick-off attempt to make the score 4-1.
Villanueva had a no-hitter broken up with two outs in the fifth inning. He threw eight innings overall and allowed one run on five hits while striking out three and walking one in the no decision. Reliever Andrew Triggs threw two scoreless innings, allowing two hits and striking out two. Ashur Tolliver took the loss, allowing three hits on two runs and three walks while recording two outs in the 11th inning. Marcel Prado recorded the final out for the Baysox.
Harrisburg reliever Abel De Los Santos earned the win, throwing two scoreless innings and allowing one hit while striking out two to finish off the game for the Senators.
The team is home through Wednesday, June 22 for a seven game homestand against Harrisburg and the Reading Fightin Phils. Friday the Baysox will honor Joint Base Andrews and it's Daddy/Daughter Date Night. RHP Mikey O'Brien (1-1, 4.38) is scheduled to pitch against Harrisburg's LHP Matt Spann (2-1, 4.57).
Baysox Baseball – We'll Knock Your 'Sox Off. The Baysox 2015 season, their 23rd as the class Double-A Affiliate of the Baltimore Orioles, is underway at Prince George's Stadium. Come see some of the top Orioles prospects play here first. To keep up with Baysox news during the season, visit baysox.com.
[do action="blackwall-hitch"/]
Category: LIFE IN THE AREA, OPINION, Sports