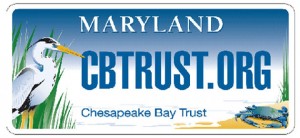 Anne Arundel County Department of Public Works and the Chesapeake Bay Trust recently announced seven new projects that will receive grant funding through the inaugural round of the collaborative Anne Arundel County Watershed Restoration Grant Program. This program was launched just this year to support stormwater restoration and retrofit projects throughout Anne Arundel County. The program's primary objective is to achieve reductions in pollutant loads, specifically excess nutrient and sediment, to the county's waterways, while also engaging residents in natural resource issues.
"Managing stormwater runoff is incredibly important to the health of the local creeks, streams and rivers of Anne Arundel County," said Erik Michelsen, administrator of Anne Arundel County's Watershed Protection and Restoration Program. "The grant program serves as a valuable resource designed to engage local organizations and individual citizens in projects that will have a lasting impact in communities throughout our county."
Specifically, the Anne Arundel County Watershed Restoration Grant Program supports requests to build a range of features that help local water quality: bioretention cells, bioswales, rain gardens, stormwater marsh enhancements, and stream and wetland restoration practices of various types. To be considered for funding, projects had to occur in Anne Arundel County, and applicants were required to engage at least one partner that represents a stakeholder group based in the county. More detailed information on the program's requirements can be found at www.cbtrust.org/grants/AnneArundelWR.
"Each year the Chesapeake Bay Trust works with hundreds of grassroots organizations, many of them in Anne Arundel County, to engage local residents and implement projects that improve our streams, rivers, parks, and ultimately the Bay," said Jana Davis, executive director of the Chesapeake Bay Trust. "Through this partnership, we are able to connect Anne Arundel County with, and channel additional resources to, community groups that share the same mission: Improving our communities and local waterways in a way that benefits all the residents, businesses, and communities in our area."
The projects funded include:
South River Federation: $77,406
This proposal is composed of two bioretention projects in the Hillsmere Shores Community. The first project will expand an original bioretention complex installed to treat a significant portion of stormwater runoff with approximately 5,000 square feet of bioretention. The second project is composed of two upland coastal plain outfalls to treat runoff on waterfront community lots adjacent to Duvall Creek.
Herald Harbor Citizens Association: $55,255
This project will take place at the base of a large valley that carries stormwater from Hall Road and the community center directly into the Severn River at the community beach. This project will create planted, river rock-lined swales along the road, as well as a conveyance system at the currently degraded stream bed and wetlands at the downstream edge.
South River Federation: $55,494
The South River Federation is working with the Girl Scouts of Central Maryland, Maryland Department of Corrections, Anne Arundel County DPW, and Preserve at Broad Creek Home Owners Association to install 190 linear feet of roadside bioretention and 9,000 square feet of forest enhancement at Camp Woodlands.
West/Rhode Riverkeeper: $45,000
A total of 2,000 square feet of impervious asphalt will be removed and 4,252 square feet of nontidal wetlands will be installed to capture runoff from a parking lot and roads in the Avalon Shores Community. Capturing stormwater will also reduce flooding that currently harms the community.
South River Federation: $100,000
The Annapolis Harbour Center Stream and Wetland project will improve habitat, increase floodplain connection, and prevent bed and bank erosion along local streams. The restoration of this site would also enhance 1,500 linear feet of existing stream and more than five acres of forested wetland habitat that drains 169 acres, of which nearly 85 percent is impervious.
Round Bay Community Association: $23,387
This project includes the implementation of a rain garden which will treat 1.52 acres at a location adjacent to the B&A Bike Trail. The project will also involve modifying an existing inlet to function as an overflow structure. Invasive plants will be removed and the area will be replanted with native species.
Ben Oaks Civic Association: $87,566
The project involves a series of swales, rain gardens and conservation landscaping, some drainage rework with an infiltration trench, and foot path restoration along Severnside Drive. This work will slow and infiltrate stormwater, old drain pipes will be removed and replaced, and eroding footpaths will be restored and planted.
For additional information on any of these projects in depth, email Molly Alton Mullins at [email protected].
[do action="blackwall-hitch"/]