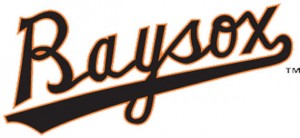 The Baysox got a strong start from  Elih Villanueva and a big night at the plate from Brandon Snyder in a 6-1 series opening win in Akron on Monday night.
Villanueva (8-6) was in trouble just once, allowing a run in the fourth inning. It was a frame where Akron loaded the bases with one down but Villanueva was able to minimize the damage.
Bowie already had grabbed the lead at that point. The Baysox knocked out starter Mike Clevinger in the fourth inning. The rally started with a single from 1B Trey Mancini. That was followed by a Snyder walk and a one out hit by pitch to CF Mike Yastrzemski to load the bases. C Rossmel Perez then walked to bring home a run. LF Tucker Nathans hit a sacrifice fly to deep right-center field and 3B Drew Dosch singled home a third run to knock Clevinger from the game. Bowie led 3-0.
From there it was the Brandon Snyder show. Snyder crushed a two-run fifth inning home run to left field to lift Bowie atop 5-1. It was his 11th home run of the year. Snyder would drive home another run in the seventh inning with an RBI-double and the lead swelled to 6-1.
After Villanueva's seven inning effort, Mychal Givens and Gene Escat each worked a scoreless frame. Mancini had a three hit night. Snyder now has a ten-game hit streak after his big evening.  After the win, the Baysox lead Altoona by two games, Richmond by three, Akron by four and Harrisburg by seven games in the division.
The Baysox and Akron are back at it Tuesday night at 7:05 p.m. with RHP Joe Gunkel getting the starting nod. Coverage will begin 20-minutes prior on 1430wnav.com and via the Tune-In Radio App by searching Bowie Baysox.
Bowie is back at home Thursday, July 30th for a four-game weekend series with Trenton. Fireworks will follow the Friday and Saturday night games. Get tickets at 301-805-6000 or online at baysox.com.
[do action="blackwall-hitch"/]