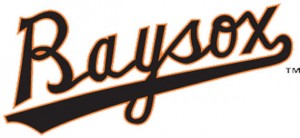 The Baysox used two big innings and a strong start from local product Joe Gunkel to upend Harrisburg in the series opener 6-2 on Thursday Night.
Gunkel, from nearby Hershey, PA, retired 15 of the first 16 batters faced, logging seven innings of work for his sixth win on the year. Gunkel has won all four road starts since joining the Baysox in the first week of June.
Bowie gave Gunkel an early lead to work with. SS Ozzie Martinez singled to short and 2B Corban Joseph walked. That set the table for 1B Trey Mancini who tripled off the right-centerfield wall to plate both runners. Next man up, DH Brandon Snyder singled Mancini home and the Baysox had a 3-0 lead.
In the fifth inning the Baysox struck again. After a Mancini walk, Snyder tripled on a line drive misplayed by CF Brian Goodwin. Snyder then scored on another triple – this time by LF Quincy Latimore into the left-centerfield alley. Latimore then scored on a sacrifice fly by CF Mike Yastrzemski. The Baysox were up 6-0.
The three triples in the game tied a franchise record. The last time Bowie had three triples in a game was July 31st, 2011 in New Britain, CT.
RHP Richard Rodriguez entered and worked two scoreless innings to wrap up the win.
The Baysox continue their four-game series with Harrisburg Friday, July 24th at 7:00 p.m. with Terry Doyle on the hill. Coverage will begin 20-minutes prior on 1430wnav.com and via the Tune-In Radio App by searching Bowie Baysox.
Bowie is back at home Thursday, July 30th for a four-game weekend series with Trenton. Fireworks will follow the Friday and Saturday night games. Get tickets at 301-805-6000 or online at baysox.com.
[do action="blackwall-hitch"/]
Category: LIFE IN THE AREA, OPINION, Sports