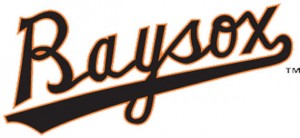 The Baysox used a four-run fourth inning to beat Trenton 4-3 in the series opener Thursday night. The win is the Baysox fifth in a row and improves the Baysox to 7-1 against Trenton this season. With a loss by Altoona tonight, the Baysox Western Division lead has now grown to three games.
Trenton jumped out to an early lead in the top of the second inning against Baysox starter Ariel Miranda. Jose Rosario drew a lead-off walk and stole second base before scoring on a one out double from Eddy Rodriguez to make the score 1-0. 
The Baysox came storming back in the bottom of the fourth inning against Trenton starter Brady Lail. Back-to-back singles from Ozzie Martinez and Corban Joseph plus a Trey Mancini walk loaded the bases before Quincy Latimore grounded into a force out that eliminated Martinez at home. Mike Yastrzemski's sacrifice fly scored the first run of the inning for the Baysox and Tucker Nathans followed with a two-RBI double to right field. David Freitas brought home the final run of the inning on a single to second base to give Bowie a 4-1 lead. 
The Thunder got two runs back in the top of the next inning. Jake Cave reached on a fielding error by second baseman Corban Joseph to lead-off the inning and moved to third base on an Ali Castillo single to right field. Mark Payton brought Cave home with a single to right field before Castillo scored from third base on a two-out wild pitch to make the score 4-3.
Making just his second Double-A start, Miranda threw five innings and allowed three runs (one earned) on six hits while striking out four and walking one in the win. Reliever Pat McCoy threw 2.2 scoreless innings and allowed two hits while striking out two and walking one. Closer Andrew Triggs pitched a scoreless ninth inning for his 11th save of the season. 
Lail took the loss for Trenton, throwing six innings and allowing four runs on seven hits while striking out two and walking one. 
The Baysox are home through Sunday, Aug. 2 for a four-game homestand against the Trenton Thunder. Friday is the Baysox Military Heroes Appreciation Night with card set giveaway at 7:05 p.m. and there will be postgame fireworks.
Baysox Baseball – We'll Knock Your 'Sox Off. The Baysox 2015 season, their 23rd as the class Double-A Affiliate of the Baltimore Orioles, is underway at Prince George's Stadium. Come see some of the top Orioles prospects play here first. To keep up with Baysox news during the season, visit baysox.com.
[do action="blackwall-hitch"/]
Category: LIFE IN THE AREA, OPINION