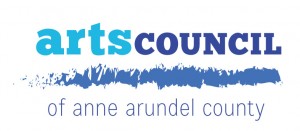 The Arts Council of Anne Arundel County is pleased to announce that five new Board Members have taken office with the start of the 2016 fiscal year.  Anne Arundel County residents: Ellen Ambrose, Jessica Daigle, Rachelle Millison, James P. O'Hare, and Elaine Shanley will be sharing their professional expertise in the fields of finance, business, and law with the non profit Arts Council which distributes grants and provides mentoring and support to over forty arts and historic preservation organizations in Anne Arundel County.
"We have a very talented group of new incoming board members," says Executive Director April Nyman, "I look forward to working with them."
Each new board member has a personal connection to the arts or local history.  An aficionado of classical music, Ellen Ambrose has 30 years experience in the banking industry and is currently Senior Branch Manager and Assistant Vice President at M&T Bank in Millersville.   Jessica Daigle has been a lawyer with the State's Attorney's Office for Anne Arundel County since 2000 and currently served on the Board of Governors of the Maryland Bar Association.   A businesswoman working in real estate development as CEO of the Millison Management Company, Rachelle Millison is also a mosaics artist.  Annapolis attorney and businessman James P. O'Hare invests in and develops real estate that often includes the historic renovation of older buildings in addition to being the owner of a pub, restaurant, and small hotel.  A partner and financial advisor at Young & Company Wealth Management, Elaine Shanley has served in several officer positions for the Annapolis Rotary Club and is a graduate of Leadership Anne Arundel.
For more information about The Arts Council of Anne Arundel County and upcoming programs, visit their website at acaac.org or call 410-222-7949.
[do action="blackwall-hitch"/]