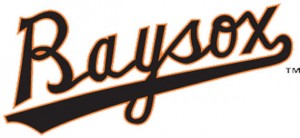 Baysox starter Elih Villanueva threw the team's second complete game shutout of the season as Bowie blanked Trenton 6-0 to sweep the four-game home series. It's the Baysox first four-game home sweep since May 4-7 against Akron and the win improves Bowie to 10-0 at home against Trenton over the past two seasons.
Baysox starter Terry Doyle threw the team's other complete game shutout of the season June 7 at Portland. The start was also Villanueva's second complete game of the season as he also threw eight innings in a loss at Portland June 3, allowing just one unearned run in the game. Monday, Villanueva threw 90 pitches and allowed just four hits while striking out four and walking two for his fifth win of the season.
Baltimore Orioles second baseman Jonathan Schoop had his best game of the rehab stint, going 3-for-4 with a home run, two doubles and three RBI in the Baysox win. He hit leadoff and played all nine innings at second base for the Baysox.
Schoop got the Baysox off to a quick start with a solo home run to lead-off the bottom of the first inning against Trenton starter Kyle Haynes.
Bowie kept the offense coming in the bottom of the second inning. Brandon Snyder hit a lead-off double to center field, moved to third base on a groundout and scored on a Drew Dosch double to right field. Dosch then scored on a passed ball and wild pitch for the second run of the inning. Garabez Rosa was hit-by-a-pitch and Quincy Latimore walked with one out before Schoop brought them both home on a double to left field to extend the Baysox lead to 5-0.
Rosa added another run for the Baysox in the bottom of the seventh inning with a solo home run to left-center field against reliever Andury Acevedo to make the score 6-0.
Haynes took the loss, throwing six innings and allowing five runs on six hits while striking out four and walking one.
Baysox Baseball – We'll Knock Your 'Sox Off. The Baysox 2015 season, their 23rd as the class Double-A Affiliate of the Baltimore Orioles, is underway at Prince George's Stadium. Come see some of the top Orioles prospects play here first. To keep up with Baysox news during the season, visit baysox.com.
[do action="blackwall-hitch"/]
Category: LIFE IN THE AREA, OPINION, Sports