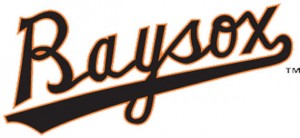 The Baysox scored three runs in the bottom of the eighth inning to break a 3-3 tie and secure a 6-3 win over the Trenton Thunder Sunday afternoon. Bowie is now 16-3 against Trenton dating back to the start of last season.
Baysox new third baseman Drew Dosch got off to a slow start in his Double-A debut, failing to record a hit in his first four Baysox games. He has been much better in the last two games, recording three RBI hits, including what proved to be the game-winner in the bottom of the eighth inning Friday.
Baltimore Orioles second baseman Jonathan Schoop was back with the Baysox on a MLB Rehab Assignment. He hit lead-off and played second base for seven innings. Schoop finished 1-for-3 with a single, walk and a pair of groundouts.
The Baysox struck first in the bottom of the fourth inning against Trenton starter Caleb Smith. Brandon Snyder and Trey Mancini opened the inning with back-to-back singles and they both advanced on a wild pitch. With one out, Snyder scored on a Glynn Davis groundout to give Bowie a 1-0 lead.
Trenton came right back to take the lead in the top of the fifth inning against Baysox starter Terry Doyle. Mark Payton started off by getting hit by a pitch, Jose Rosario singled and Francisco Arcia reached on a throwing error by Doyle to load the bases with no outs. With one out, Taylor Dugas singled to right field to bring home a run and the final two runs scored when Jake Cave reached on a force out and missed catch error by Doyle to make the score 3-1.
Bowie tied the game in the bottom of the sixth inning. Mancini started things off with a solo home run to left field. With two outs, Rossmel Perez and Dosch hit back-to-back doubles to bring home a second run and tie the game 3-3. Trenton reliever Caleb Cotham replaced Smith on the field to record the last out.
The Baysox broke the tie in the bottom of the eighth inning against Trenton reliever Mark Montgomery. Davis hit a one-out single to left field and then stole second and third base before Perez walked to put runners on the corners. Dosch brought Davis home with a single to right field and then stole second base to put runners on second and third with two outs. In for Schoop, Garabez Rosa singled to center field to bring home two more runs and give the Baysox a 6-3 lead.
Doyle threw seven innings and allowed three runs (one earned) on five hits while striking out seven in a no decision. Back for his first game after returning from Triple-A Norfolk, reliever Ben Rowen pitched a scoreless ninth inning to pick up his first win of the season. Reliever Andrew Triggs earned his fifth consecutive save after pitching a scoreless ninth inning.
Montgomery took the loss, recording two outs in the eighth inning and allowing three runs on three hits while striking out one and walking one.
The Baysox are home through Friday, June 26 on an eight-game homestand against the Trenton Thunder and New Britain Rock Cats. The homestand concludes with Christmas in June Thursday, June 25 at 6:35 p.m. and Maryland Pride Night Friday, June 26 at 6:35 p.m. RHP Elih Villanueva (4-5, 2.96) is scheduled to pitch for the Baysox Monday in the series finale against Trenton. He will be opposed by RHP Kyle Haynes (1-3, 1.87).
Baysox Baseball – We'll Knock Your 'Sox Off. The Baysox 2015 season, their 23rd as the class Double-A Affiliate of the Baltimore Orioles, is underway at Prince George's Stadium. Come see some of the top Orioles prospects play here first. To keep up with Baysox news during the season, visit baysox.com
[do action="blackwall-hitch"/]
Category: LIFE IN THE AREA, OPINION, Sports