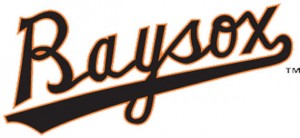 The Baysox rallied for three runs in the eighth inning, with SS Ozzie Martinez providing the clutch hit, in a 5-3 win in the series opener in Portland.
Bowie trailed 3-2 into the eighth inning. 1B trey Mancini, making his Eastern League debut was hit by a pitch. 2B Garabez Rosa then hit a double play ball that was mishandled. The error opened the door. Red hot RF Quincy Latimore would single to left field to load the bases with no outs.
With one down, Baysox CF Glynn Davis tied the game with a sacrifice fly to center. Rosa tagged and got third base. Latimore would then steal second setting the table for Martinez. He hit a sharp groundball right up the middle into center and both runners scored lifting Bowie to a 5-3 lead.
The Baysox trailed throughout. Up 1-0 in the bottom of the first, Portland LF Keury De La Cruz hit a three-run home run to right field. Baysox starter Parker Bridwell battled back though not allowing another run in his 5 and 2/3rd inning outing.
Bowie stranded a runner at third base three times in the first five innings. Portland had chances to extend their lead though as well. They left the bases loaded in each the sixth and seventh innings.
Reliever Dennis Torres got his first Eastern League win in the game. Both Ashur Tolliver and Mychal Givens piled up strikeouts out of the pen. Tolliver with three strikeouts in one inning. Givens fanned the first four he faced in a two inning save. The save was his 12th of the season. Mancini went 1-for-4 with two runs in his debut.
Bowie and Portland are back at it again Saturday, June 6th at 6:00 p.m. with RHP Joe Gunkel making his organizational debut against his former teammates. Coverage begins 20-minutes prior on 1430wnav.com and via the Tune-In Radio App by searching Bowie Baysox.
Bowie returns home for Dollar Dog Night Tuesday, June 9th at 6:35 p.m. against the Binghamton Mets. Get your tickets over the phone at 301-805-6000 or online at baysox.com.
[do action="blackwall-hitch"/]
Category: LIFE IN THE AREA, OPINION, Sports