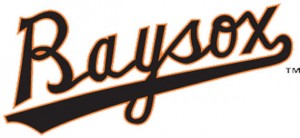 The Baysox got roughed up in a 6-0 shutout loss in the series finale against Binghamton on Thursday night. With the loss, the Baysox dropped the home series against Binghamton 2-1.  
Orioles RHP Kevin Gausman made the start for Bowie in a major league rehab assignment and took the loss in the game. Gausman was limited to 61 pitches and threw 3.1 innings, giving up four runs on four hits while striking out four batters. All four runs came off home runs, the first a solo shot from Aderlin Rodriguez in the second inning and the second a three run shot from Josh Rodriguez in the fourth inning that scored Michael Conforto and Brock Peterson.  By the end of the fourth inning the Mets had a 4-0 lead.
The night didn't get better for the Baysox after Gausman exited the game. Reliever Marcel Prado (3-0, 2.65) came on to pitch in the fourth and lasted one inning. He walked L.J. Mazilli, threw a wild pitch to move Mazilli to second and then tried to pick Mazilli off at second but threw wide of the bag, moving Mazzilli to third on the error. Conforto then walked to put men on the corners and Peterson doubled to score the final two runs of the night and give the Mets a 6-0 lead and the eventual win.
One bright spot from the game for Bowie was reliever Mychal Givens' (2-1, 1.02) performance as he threw 1.2 innings and gave up only one hit and struck out two. Relievers Matt Hobgood and Kenn Kasparek combined to throw three scoreless innings to close out the game of the Baysox.
The Baysox lineup couldn't get much going on offense as they were 0-for-5 with runners in scoring position in the shutout loss. Binghamton's Luis Cessa (5-3, 2.51) picked up his team leading fifth win after throwing six scoreless innings. 
The Baysox begin their series against Portland on Friday night at 6:35 p.m. at Prince George's Stadium. Parker Bridwell (2-3, 4.58) leads the team in strikeouts and takes the mound for the Baysox against Portland's Heri Quevedo (0-1, 1.80).
Baysox Baseball – We'll Knock Your 'Sox Off. The Baysox 2015 season, their 23rd as the class Double-A Affiliate of the Baltimore Orioles, is underway at Prince George's Stadium. Come see some of the top Orioles prospects play here first. To keep up with Baysox news during the season, visit baysox.com.
[do action="blackwall-hitch"/]