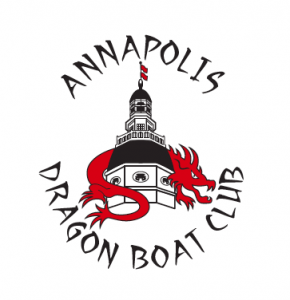 Try one of the fastest growing team sports on Saturday, June 20th, from 10am – 2pm, at a free event with the Annapolis Dragon Boat Club at South Annapolis Yacht Centre (formerly Sarles Boatyard). Artist Nancy Hammond will join in to "awaken the dragon" and paint the eyes of the dragon open to mark the start of the paddling season.
This free event will feature paddling demonstrations, food, music, and fun. Items featuring Nancy Hammond's "Dragon Boat with Paddles" will be on sale at the event. This special creation was gifted to the Annapolis Dragon Boat Club by Nancy Hammond, with all proceeds benefitting this local nonprofit for cancer survivors and supporters, especially breast cancer.
The mission of the Annapolis Dragon Boat Club is to promote the development of healthy bodies and spirits for men and women, to support recovery from breast cancer and all other cancers, and to grow friendships and teamwork. The club promotes and develops the sport of dragon boating as a means of building physical strength, endurance and confidence with an emphasis on recreation, synchrony, and harmony while on the water…the beautiful Spa Creek of Annapolis.
Nancy Hammond is an artist whose works are well known on both shores of the Chesapeake Bay. Hammond began her Chesapeake work with a series of silkscreen and giclee prints and has since designed scarves, jewelry, shirts, placemats, etched crystal and ties.
[do action="blackwall-hitch"/]
Category: Businesses, Events, LIFE IN THE AREA, Local News, NEWS, Sports