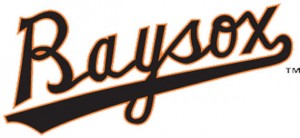 Despite having Baltimore Orioles pitcher Bud Norris on the mound, the Baysox could not keep the Erie SeaWolves offense down, losing 6-3 Wednesday night. The loss snapped a five game winning streak for the Baysox against the SeaWolves
Orioles RHP Bud Norris made the start for Bowie on a MLB Rehab Assignment. He threw five innings and allowed four runs on six hits while striking out seven in the loss. It was the second rehab start for Norris who was placed on the Disabled List with bronchitis. All six hits and four runs came in Norris' final two innings of work.
"I felt like I had my legs more under me," Norris said. "My fastball was there – the velocity. I worked inside out and tried to stay down. My slider was there. There were a couple of runs in the fourth inning, but that was fine. I made some good pitches. Once the ball leaves your hand that's all you got. I was glad to get through five. I have been working really hard to get my energy back and get my weight back on."
The Baysox struck first in the bottom of the second inning against Erie starter Austin Kubitza. Garabez Rosa hit a one-out double to right field and moved to third base on a Jason Esposito single to shortstop. Esposito moved to second on a wild pitch and Ozzie Martinez brought both runners home with a two-out double to left field to give Bowie a 2-0 lead. 
The SeaWolves rallied to take the lead in the top of the fourth inning against Norris. Connor Harrell led off the inning with a single to center field for Erie's first hit of the night. Harrell moved to third base on a wild pitch and a groundout before scoring on a two-out James Robbins single to center field. Wade Gaynor followed with an infield single and Drew Longley brought both runners home with a double to center field to give Erie a 3-2 lead. 
Erie added another run in the top of the fifth inning. Harold Castro hit a lead-off single to left field, stole second base and scored on a Wynton Bernard single to left field to give the SeaWolves a 4-2 lead.
Dean Green made the Erie lead 5-2 with a solo home run to right-center field to lead off the sixth inning against Baysox reliever Kenn Kasparek. 
Bowie got one run back, but missed an opportunity to score more runs as they loaded the bases with no outs and scored just once in the bottom of the seventh inning. Michael Burgess and Rosa reached to start the inning and Joe Rogers then replaced Kubitza on the mound and walked Esposito to load the bases. After a Sharlon Schoop pop out, Martinez brought Burgess home with a sacrifice fly to make the score 5-3.
The SeaWolves answered in the top of the eighth inning against Baysox reliever Ashur Tolliver. Jason Krizan hit a lead-off double to center field and moved to third base on a wild pitch before Green drew a walk to put runners on the corners. Robbins brought Krizan home with a single to left field to give the SeaWolves a 6-3 lead. Baysox reliever Ben Rowen then replaced Tolliver on the mound and got out of the inning with no more runs scoring.
Kasparek threw two innings and allowed one run on two hits while striking out three. Tolliver faced three batters without recording and out, allowing one run on two hits and a walk. Rowen threw the final two innings, allowing just one hit while striking out three
Kubitza earned the win for Erie, throwing six innings and allowing three runs on six hits while striking out eight. 
RHP Terry Doyle (2-1, 4.10) takes the mound for the Baysox Thursday as the team plays the final game in a three-game home series against the Erie SeaWolves. He will be opposed by LHP Josh Turley (4-2, 2.89). The Baysox are home through Sunday, May 31 with the Touch-A-Truck event scheduled for Saturday at 6:35 p.m. and Toy Story Day Sunday at 2:05 p.m.
Baysox Baseball – We'll Knock Your 'Sox Off. The Baysox 2015 season, their 23rd as the class Double-A Affiliate of the Baltimore Orioles, is underway at Prince George's Stadium. Come see some of the top Orioles prospects play here first. To keep up with Baysox news during the season, visit baysox.com.
[do action="blackwall-hitch"/]