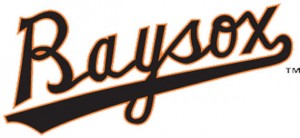 Baysox C Chris O'Brien has a flair for the dramatic. Just five days after hitting a walk-off grand slam in Bowie with two down in the ninth, O'Brien nearly sparked another magical moment. Representing the tying run with two down in the ninth, O'Brien got into a delivery sending it to the outfield wall, where Richmond left fielder Daniel Carbonell caught the ball at the wall to end the game.
The loss ended a season-high six-game winning streak for Bowie. Altoona was a winner over Harrisburg so the Baysox will enter Saturday morning back in a tie for first place in the Eastern League's West. The win was the fifth straight for Richmond since starting the season at 3-17.
Baysox starter Parker Bridwell was strong. He went a season-high seven innings, allowing four runs while striking out eight batters. Bridwell did not allow a walk.
Down 4-0 in the seventh inning the Baysox cut the lead in half. 1B Brandon Snyder doubled with one down but had to exit the game with a lower body injury. Derrik Gibson came in as a pinch-runner and O'Brien drove a ball out the opposite way with a two-run home run to left field making it 4-2 Richmond. For O'Brien it was his fifth home run of the season. All five have come with at least one runner on-base.
RHP Marcel Prado worked a scoreless inning in the eighth inning to keep the Baysox within two runs for the ninth inning. For Prado, it was his first appearance of the year.
Bowie will send Branden Kline to the mound Saturday, May 9th at 7:05 p.m. in game two of the weekend series in Richmond. Listen on 1430wnav.com or via the Tune-In Radio Free Application.
The Baysox return home Thursday, May 14th at 6:35 p.m. for the first of four games with Richmond. Fireworks follow the May 15th and 16th games. Get your tickets over the phone at 301-805-6000 or online at baysox.com.
[do action="blackwall-hitch"/]
Category: LIFE IN THE AREA, OPINION, Sports