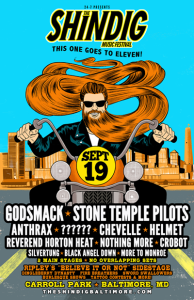 Clutch, based in Frederick, MD, is the only band to play all three years of The Shindig Festival!
They have been pushing the boundaries that define heavy rock music since the 4 original members got together in high school. Having been tagged hard rock, blues rock, southern stoner rock and alternative metal by press and fans across the world alike it is safe to say one thing… "What you see is what you get", and what you get is a musical force that has been best described as the quintessential American Rock Band.
This year's two main stages will be anchored by rock radio staples Godsmack and 90's alternative giants Stone Temple Pilots. Joining the energy fueled festivities will be the legendary Anthrax, Clutch, Chevelle, Helmet, Reverend Horton Heat plus a Shindig favorite to be announced after May 16! Rounding out the rock fest will be exciting new buzz bands Nothing More and Crobot plus homegrown talent Silvertung, Black Angel Down and More to Monroe.
A "Shindig" is defined as "a large, lively party celebrating something". In this case, the "something" is the working class, rock & roll spirit which makes up the very core of the city of Baltimore. Last year's Shindig attracted over 10,000 live music fans; the most ever gathered at Carroll Park for an event.  
The all-day festival will feature two identical main stages with no overlapping sets of music.
The Woods is home to the Ripley's "Believe it or Not" Side Stage featuring an array of rare talent including a performance by local shock-rock troupe Dingleberry Dynasty, plus Sword Swallowers, Fire Breathers, Aerial Acrobats, Burlesque performances, Tattoo Contests, and many other visually captivating oddities. The Vending Village is also located in The  Woods, which offers a variety of Baltimore's most popular restaurant and retail options with plenty of shade and seating to relax.
Curated by well-known MD independent promoter, Paul Manna of 24-7 Entertainment, The Shindig is truly a labor of love. Manna says, "I was born and raised in Baltimore and creating a festival vibe we haven't seen here was my goal. I think the unique charm and laid back feel of The Shindig is palpable from the moment you step on the grounds. I'm very grateful for the overwhelming amount of fans who come out each year to share in the festival experience we passionately work so hard attempting to perfect".
Ben Hyman, Director of Pigtown Main Street says, "The Shindig showcases our historic neighborhood to thousands of new people. They are yet another example of our investment in Pigtown, including the opening of nine new businesses and hundreds of thousands of dollars in economic development."
Carroll Park is located only 1.5 miles from Camden Yards, M&T Bank Stadium, I-95, and I-395 in the heart of historic Pigtown. The Shindig is proud to welcome festival lovers from all over the region to our beloved hometown of Baltimore, MD for another year of great music and memories.
[do action="blackwall-hitch"/]
Category: Entertainment, Events, LIFE IN THE AREA