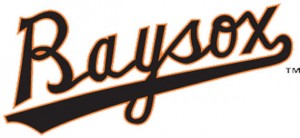 All three of the Baysox runs came with two outs in the eighth inning as the team stole another close game from the Trenton Thunder Wednesday afternoon, leaving with a 3-1 victory. Entering the eighth inning, the Baysox were trailing 1-0 and had managed just two hits in the game against Trenton starter Eric Ruth.
It was a long day of work for the Baysox bullpen after starter Branden Kline exited after 1.2 innings with an injury. Reliever Andrew Triggs pitched 3.1 innings in relief, allowing one run on three hits while walking three and striking out five. Reliever Marcel Prado pitched 2.2 scoreless innings, allowing two hits while walking two and striking out three in the win. Reliever Ashur Tolliver recorded the final out of the eighth inning and Ben Rowen pitched a scoreless ninth inning for his first save of the season. 
Trenton broke the scoreless tie in the bottom of the fourth inning against Triggs. Mason Williams drew a lead-off walk, stole second base and scored on a Taylor Dugas double to right field to give the Thunder a 1-0 lead.
The Baysox first and only runs of the game came in the top of the eighth inning against Trenton reliever Conor Mullee. Garabez Rosa hit a lead-off single to right field and with one out, Sharlon Schoop reached on catcher interference. Michael Burgess then grounded into a force out that eliminated Schoop at second and left runners on the corners with two outs. Ozzie Martinez brought the tying run home with a single to right field and two more runs came home on a Glynn Davis game-winning double to left field that gave Bowie a 3-1 lead.  
Despite pitching seven shutout innings and allowing just two hits, Trenton starter Eric Ruth took a no decision in the start. Mullee took the loss and blown save after allowing the three runs in the eighth inning.
RHP Dylan Bundy (0-3, 4.50) is scheduled to start for the Baysox tomorrow as the team completes a three-game road series against the Trenton Thunder. Listen on www.wnav.com with the first pitch scheduled for 7:00 p.m.
Baysox Baseball – We'll Knock Your 'Sox Off. The Baysox 2015 season, their 23rd as the class Double-A Affiliate of the Baltimore Orioles, is underway at Prince George's Stadium. Come see some of the top Orioles prospects play here first. To keep up with Baysox news during the season, visit baysox.com.
[do action="blackwall-hitch"/]
Category: LIFE IN THE AREA, OPINION, Sports