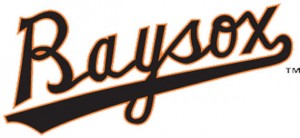 A Sean Halton two-run seventh inning home run gave Bowie the lead, and the Baysox bullpen was once again up to the task in a 3-2 win Saturday night in Richmond.
Down 1-0 in the seventh, DH David Freitas singled to leadoff the inning. Halton then went yard, ending a hitless road trip prior, with a two-run blast to left-center field. The home run was the fourth of the season for Halton.
Bowie added a needed insurance run in the eighth inning. With runners at second and third base, C Rossmel Perez lined a single off of the glove of Richmond 3B Mitch Delfino. SS Ozzie Martinez scored from third and the Baysox led 3-1.
Terry Doyle made a strong start for Bowie in his second start atop the hill. Doyle went five innings allowing just a run on seven hits. He finished his outing dancing out of a bases loaded fifth inning jam with one down. He struck out Flying Squirrels 1B Ricky Oropesa with a curveball looking to end the threat.
The Baysox got another great effort from the pen as Marcel Prado (3-0), Ben Rowan and Mychal Givens combined to shut the door. Prado worked two scoreless before allowing a solo home run to Oropesa to bring Richmond within 3-2. Rowen then allowed a double to DH Devin Harris but worked out of the jam.
Givens entered in the ninth inning and with one down allowed a double off the bat of SS Rando Moreno. The Baysox contested ardently that Moreno was out on a bang bang play at second and Martinez was tossed from the game. But Givens went back to work, striking out the game's final two batters to seal the deal.
The Baysox bullpen has allowed three runs in 27 and 1/3rd innings on the five game road trip to date. That is good for a 0.99 ERA.
The series continues with back-to-back day games. The first of which set for Sunday, May 24th at 1:3-5 p.m. with RHP Parker Bridwell on the mound. Coverage will begin 20-minutes prior to first pitch on 1430wnav.com and via the Tune-In Radio App by searching Bowie Baysox.
The Baysox return home Tuesday, May 26th at 6:35 p.m. opening a three-game series with the Erie SeaWolves and a six-game homestand at Prince George's Stadium. Orioles catcher Matt Wieters is scheduled to play for the Baysox. Get your tickets over the phone at 301-805-6000 or online at baysox.com.
[do action="blackwall-hitch"/]
Category: LIFE IN THE AREA, OPINION, Sports