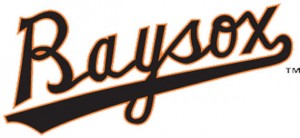 Errors cost the Baysox Thursday night as the team fell to Richmond 7-2 despite taking an early lead. It is the fourth consecutive loss for the Baysox where Bowie took the first lead of the game. The Flying Squirrels blew the game open with six runs in the fifth and sixth innings, but four of those runs were unearned because of a pair of errors. 
The Baysox continued a trend of fast starts as Mike Yastrzemski homered with two outs in the bottom of the first inning against Richmond starter Joe Biagini to give Bowie a 1-0 lead. 
Ricky Oropesa came right back with a solo homer in the top of the second inning off Baysox starter Branden Kline to tie the game 1-1. 
The Flying Squirrels took their first lead of the night in the top of the fifth inning with help from some Baysox mistakes. Richmond loaded the bases with no outs and Daniel Carbonell brought the first run of the inning home on a fielder's choice to left field that saw Yastrzemski throw out Devin Harris at third base. Then with two outs, Kline committed a missed catch error on a ground ball that allowed two more runs to score giving Richmond a 4-1 lead. 
Richmond blew the game open with three more runs in the top of the sixth inning to take a 7-1 lead. The Baysox again ran into some trouble with two outs and the bases loaded. Carbonell brought home one run with a single to left field and two more runs then scored on a fielding error by Yastrzemski on the play. 
Sean Halton got one run back for the Baysox in the bottom of the sixth inning with a solo home run to left-center field to make the score 7-2.
Kline pitched 5.2 innings and allowed seven runs (three earned) on seven hits while striking out four and walking two in the loss. Reliever Marcel Prado pitched 2.1 scoreless innings behind Kline, allowing two hits and striking out three.
Biagini picked up the win, throwing seven innings and allowing two runs on five hits while striking out six batters.
RHP Dylan Bundy (0-2, 2.25) takes the mound for the Baysox Friday as the team plays the second game in a four game home series against the Richmond Flying Squirrels. He will be opposed by LHP Kelvin Marte (2-0, 1.59). Fireworks are scheduled for after the games on Friday and Saturday night. 
Baysox Baseball – We'll Knock Your 'Sox Off. The Baysox 2015 season, their 23rd as the class Double-A Affiliate of the Baltimore Orioles, is underway at Prince George's Stadium. Come see some of the top Orioles prospects play here first. To keep up with Baysox news during the season, visit baysox.com.
[do action="blackwall-hitch"/]