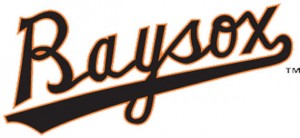 Akron seemed to always have an answer on Saturday afternoon. In both innings in which the Baysox registered runs, Akron tallied immediately following as Bowie dropped a 7-3 decision.
The Baysox grabbed the lead in the top of the second inning as SS Ozzie Martinez lifted a sacrifice fly to centerfield to bring home 3B Garabez Rosa with the game's first run.
Akron rallied quickly against Baysox starter Tim Berry. The Ducks got consecutive doubles from 3B Yandy Diaz and C Jake Lowery to tie the score. LF Ollie Linton walked and a bunt single from 1B Justin Tolle loaded the bases. When all was said and done, Akron had a 3-1 lead.
Down 5-1 in the fifth inning, the Baysox mounted a rally. Martinez and RF Mike Yastrzemski singled to start the frame. A wild pitch put runners at second and third bases respectively. CF Glynn Davis would bring home a run on a groundout and with two down DH Mike McDade singled home Yastrzemski to make it 5-3. McDade had to leave the game after coming up lame around first base.
Akron though rallied in the bottom half of the fifth inning. RF Anthony Gallas doubled and Diaz then put down a bunt single to start the rally. With the bases loaded and one down, the Baysox went to reliever Andrew Triggs. Triggs walked Toole to bring in a run and then a sacrifice fly by 2B Yonathan Mendoza brought the Akron lead to 7-3.
Triggs retired eight consecutive batters following the walk to start his outing. He has not allowed a run in five consecutive outings. RHP Ben Rowan entered and worked a 1-2-3 eighth inning.
Looking for a series split, the Baysox turn to RHP Elih Villanueva, who is hunting his third win of the young season. First pitch is set for 2:05 p.m. from Canal park in Akron on Sunday, April 26th. Listen on 1430wnav.com or via the Tune-In Radio Free Application.
Bowie returns home for a weekend series with the Washington Nationals Affiliate the Harrisburg Senators starting Friday, May 1st at 6:35 p.m. Get your tickets over the phone at 301-805-6000 or online at baysox.com.
[do action="blackwall-hitch"/]