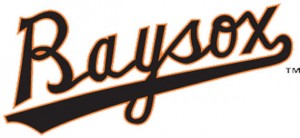 Baysox OF Quincy Latimore burned his former Harrisburg teammates with a two-out, three-run home run to right field in the fourth inning in a 7-3 Baysox win. DH Sean Halton homered as well in the win as the Baysox took two of three in the series.
Tied at 2-apiece after one inning, the game remained there until the fourth inning. The bottom of the Baysox order then produced with three consecutive singles to load the bases with no outs. LF Mike Yastrzemski walked to bring home the lead run.
But it looked like the Baysox may leave the rally there. 2B Derrik Gibson struck out and Yastrzemski was picked off on a throw from behind the plate. But Latimore then provided the blast. A deep drive on a two-strike pitch into the right field seats to put the Baysox on top 6-2.
Bowie got a strong start from Elih Villanueva (1-0) who did not allow a hit after the first inning. Mychal Givens came in for him in the sixth inning and got in trouble. The first four batters reached on two hits, a walk and an error. With a run in, the bases loaded and no outs, Givens stepped up. He struck out consecutive batters and then got a weak groundball to third base to end the inning.
With the win, the Baysox finish their first road trip of the year with a 4-3 record. Bowie now heads home for their opening night at Prince George's Stadium.
RHP Parker Bridwell will start the home opener Thursday, April 16th at 6:35 p.m. against Erie. For tickets, purchase online at baysox.com or during business hours at 301-805-6000.
[do action="blackwall-hitch"/]
Category: LIFE IN THE AREA, OPINION, Sports