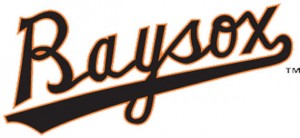 After battling back from three runs down in the fifth inning, the Baysox saw Harrisburg grab the momentum right back. Senators 1B Matt Skole broke the tie with a two-out grand slam home run in the bottom of the fifth and the Baysox could not rally in an 8-4 loss.
Baysox starter Tim Berry was rolling along. He had not allowed a hit in his first three innings of work. In the top of the fourth inning the Senators sent all nine batters to the plate, scoring four runs in the frame.
Dow 4-1, the Baysox went to work. SS Ozzie Martinez and 3B Sharlon Schoop singled to start the fifth inning. After a fielder's choice force at second base on a ground ball by CF Mike Yastrzemski, 2B Derrik Gibson lifted a sacrifice fly to score Martinez and it was 4-2.
Then RF Sean Halton stepped in. With Yastrzemski at first base, Halton got into one, hitting a long game-tying home run to left-center field to knot the game at 4-4. The home run was the first for Halton and the second for a Baysox hitter this season.
But Harrisburg bounced back in the bottom of the fifth with a two-out rally. RF KJevin Keyes and DH Shawn Pleffner singled followed by a walk to LF Caleb Ramsey that loaded the bases. Berry fell behind Skole 3-0 and had a 3-1 count when Skole lifted the blast that lifted Harrisburg to victory.
Baysox relievers Gene Escat, Bobby Bundy and Ben Rown combined to throw 3 and 1/3rd scoreless innings out of the pen.
Bowie turns to RHP Elih Villanueva in the series finale Wednesday, April 15th at 6:30 p.m. Coverage begins 20-minutes before first pitch on 1430wnav.com and the Tune-In Radio App with the Trunnell Law Pre-Game Show.
Opening Night in Bowie will be Thursday, April 16th at 6:35 p.m. as the Baysox host Erie. For tickets, purchase online at baysox.com. 
[do action="blackwall-hitch"/]
Category: LIFE IN THE AREA, OPINION, Sports