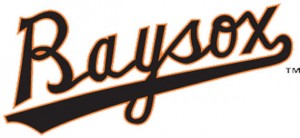 Bowie's four-game winning streak came to an end Friday night in Akron, as the Baysox struggled against LHP Ryan Merritt in a 3-0 loss. Merritt worked seven and two-thirds innings to gran the win.
The Baysox fell behind early as starter Dylan Bundy took some time before settling in. The first three Ducks reached base against the Baysox starter. CF Tyler Naquin walked, 2B Todd Hankins singled and SS Erik Gonzalez doubled home a run in an inning that brought two runs to the plate for Akron.
Bundy settled down, getting through three innings while striking out a season-high four batters. Bowie got strong work out of their pen as LHP Ashur Tolliver went three innings allowing just a run. RHP and older brother of starter Dylan, Bobby Bundy worked two scoreless innings to keep Bowie in the hunt.
But the Baysox couldn't get the bats going. Bowie had seven men reach base, but never two in the same inning. 2B Derrik Gibson reached third base with two down in the third inning but a line drive out off the bat of CF Glynn Davis ended the frame. In the eighth inning, SS Ozzie Martinez doubled to leadoff the inning but he was left stranded there.
Before the game the Orioles announced that Baysox INF Sharlon Schoop had been promoted to Triple-A Norfolk. A Double-A veteran since 2010, Schoop is headed to Triple-A for the first time in his career. C Steel Russell was also activated to the Baysox roster.
LHP Tim Berry goes in a Saturday afternoon matinee on the 25th at 2:05 p.m. in game three of the four-game series. The game can be heard on 1430-WNAV and 99.9 FM in the city of Annapolis.
Bowie returns home for a weekend series with the Washington Nationals Affiliate the Harrisburg Senators starting Friday, May 1st at 6:35 p.m. Get your tickets over the phone at 301-805-6000 or online at baysox.com.
[do action="blackwall-hitch"/]