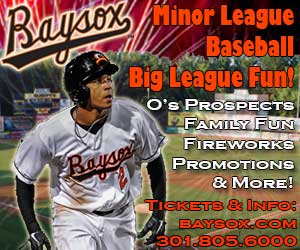 The 2015 season of Baysox baseball got off to a wild start as Bowie dropped a marathon, 14-inning contest in Richmond 3-2 to open their 142-game campaign. The game was longer than any played in the Baysox 2014 season.
Bowie looked like they had grabbed the lead with two-down in the 11th inning. SS Ozzie Martinez singled up the middle and then stole second base. CF Mike Yastrzemski then slashed a single to right. Martinez rounded third and scored with ease to give the Baysox a 3-2 lead. Or so they thought.
Home plate umpire Junior Valentine ruled upon appeal that Martinez had missed the third base bag and was out to end the inning. The game remained tied at 2-apiece.
Richmond won the game in the 14th inning. After a leadoff walk, to SS Rondo Moreno, a sac bunt moved the runner to second base. LF Daniel Carbonell registered his first hit of the night with a single to center moving Moreno to third base. IF Kelby Tomlinson won the game with a push bunt up the first base line to score Moreno. Tomlinson reached base five times in the game.
Bowie got the lead in the second inning when 1B Mike McDade doubled to leadoff the frame on a first pitch fastball and then scored with one down on an RBI-groundout by C Rossmel Perez. It was 2-0 in the third after Yastrzemski walked and then came all the way around on an RBI-double by LF Glynn Davis.
Eight Baysox players made their Orioles organizational debuts in the game. Bowie threw seven of their eight active members of the bullpen in the loss. Tim Berry made the opening day start working four scoreless innings. Berry exited after throwing 73 pitches.
The Baysox continue the series and opening road trip in Richmond on Friday night. First pitch is set for 7:05 p.m. with RHP Elih Villanueva making his Orioles organizational debut for Bowie. Coverage begins on 1430-WNAV and 99.9 FM in the city of Annapolis at 6:45 p.m. with the Trunnell Law Pre-Game Show.
Opening Night in Bowie will be Thursday, April 16th at 6:35 p.m. as the Baysox host Erie. For tickets, purchase online at baysox.com. 
[do action="blackwall-hitch"/]